Portland Metrozine
Summer 2020
Intrepid | Insightful | Innovative

A Journey Guided by Angels
By Margo Adler
Creative Nonfiction
A growth journey on bicycle – from the Port of London to the Land of Israel – intercepted by angels all along the way.
Bar Cat
By Wesley Anne Cook
Flash Fiction
Sometimes the sun shines indoors. A short examination of why we move on.
Looking Back
By Wesley Anne Cook
Flash Fiction
It took only thirty-nine years to examine this closely.
Someplace Without Washrooms
By Alfredo Salvatore Arcilesi
Fiction
Painful flashbacks and haunting "what ifs" and "if onlys" replay regret without resolution.
Activist Suite
By F.I. Goldhaber
Suite of Poems
Poetry as an activist's tool calling out the injustices of our time and giving voice to those otherwise silenced.
The Chess Match
By Gary Beck
One Act Play
Self-proclaimed speed chess expert begins to unravel when he faces an unusual opponent.
Gallery Walk
By Mary Ellen Gambutti
Haiga Travel Stories
Deceptively simple, deeply expressive stories of travel within and between realms.
Rite of Passage
By Maggie Jones
Flash Fiction
Betrayal and abuse are transformed into empowerment, redemption, and ultimately, forgiveness.
Family Resemblance
By P. A. O'Neil
Flash Fiction
A politically charged, painful memory revisits the child many years later as an adult.
Variations on a Theme
By Tom Bierovic
Contemporary Haiku
Short poems on the theme of water birds: contemporary haiku and tanshi.
The Dragon's Head
By Mark Kodama
Fiction
Overcoming life's untenable realities sometimes requires an escape to another place and time.
Rules in Heaven
By Thomas Elson
Flash Fiction
To get into heaven you play by the rules. To stay in heaven requires something more.
On Her Third Step
By Thomas Elson
Flash Fiction
Lost love calls out to us and we answer, seeking closure until the bitter end.
Slice of Life
By Prisoner # 53.3.8.5.7
Prose Poem: For the First Time
The body may be restrained but ultimately the freedom of the human spirit cannot be contained.

Spotlight On: Systemic Racism
By Basha Krasnoff
Personal Essay: Our Racist Land of Liberty
What does it require of us to move beyond active racism and passive non-racism to become an actively anti-racist society?
Point of View
By Toni Merflag
Personal Essay: Ironies in the Aftermath
As demonstrations for social change erupt around the world, ironies are noted in the aftermath of the protests in a single moment in time.
---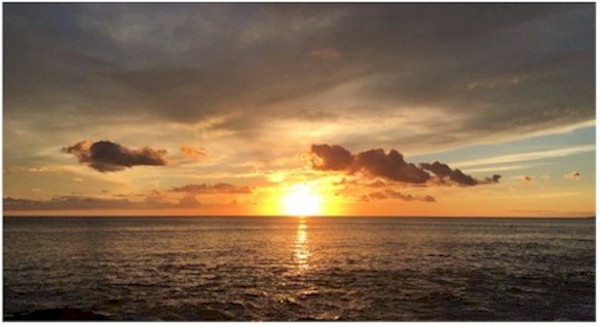 Creative Nonfiction
A Journey Guided by Angels
By Margo Adler
Prologue: During times of trouble, Jews revert to the tradition of telling stories that give hope, pleasure, and consolation to a troubled mind. Over the generations, storytelling has assumed many forms with but one caveat: the story cannot be sad or depressing. In keeping with that tradition during these troubled times, here is an excerpt from the story of a two-year journey guided by angels.
The Journey Begins
Finally, after three full months of planning, we arrived unprepared in London. Waiting in baggage claim long enough to develop misgivings, our boxed bicycle parts finally appeared. For the next two hours we struggled to reassemble them in the Heathrow parking lot. I wondered why taking something apart is so much easier than putting it together. Tired and discouraged, I looked up to relieve my aching neck and watched an elderly couple, who, having just assembled their bicycles and panniers, were getting on their bikes and setting off. They looked back at us, waved, and gave us thumbs up. They seemed confident and eager, like a picture from a Kiplinger cover; we on the other hand, looked bedraggled and weary. They knew where they were going and what they were doing. We looked bewildered and wondered what we had gotten ourselves into. Never mind, I told myself, at least we have a place to stay tonight.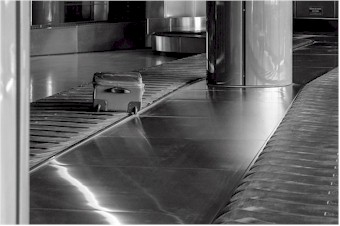 Bicycling from Heathrow airport through miles of traffic and fumes, we eventually arrived at the beautiful London neighborhood of South Kensington. Stately white townhomes with black iron fences and balconies, manicured gardens with blooming flowers, enough reds to let us know we were someplace important. We looked about and acknowledged our luck of a restful stay in such a lovely neighborhood after an arduous overseas journey and bike ride from the airport.
Finding the townhouse, we knocked on the black carved door, without answer. We were disappointed, though not concerned, that our prearranged hosts were not home. We left a note announcing our arrival and went for a cup of tea. By the end of the journey we came to realize that "not answering" was a way of communicating to visitors that they were not welcome – apparently this was considered "more polite than a face-to-face" so as not to "embarrass anyone."
Upon returning, we found the note gone, but still no answer from our hosts. We had no reason to assume we were not welcome, so we walked about the square and kept an eye on the house. Seeing our presumed host strolling toward the apartment, we enthusiastically greeted him. "Well" he said, "my wife and I had a change of mind and you can't stay, so then, off you go."
"Where will we go?" we asked.
"Oh, I'm sure you will find something," he said as he went inside his townhouse and closed the door. Unprepared and baffled, we had yet to learn that "unprepared" happens often but "baffled" is merely a state of mind. Verging on panic, we asked ourselves, "What would we do if we were backpacking in the wilderness?" Of course, we would find food and shelter. Once we decided not to panic but to seek out other options, some of the most unexpected and wonderful experiences presented themselves.
In those days before cell phones, finding a place meant searching the streets and as darkness approached, we settled on the closest available B&B we could find. The cost per night amounted to what we had budgeted for a week of lodging! Our London tour plans were thrown in the bin and the next morning after breakfast of soft-boiled egg, toast and jam and a cup of tea, we bade farewell and fled London and our plans to sightsee the city.
With no London city maps to be found anywhere owing to the massive influx of tourists for the Queen's Jubilee, we took the first road we came to that headed south out of London, and off we pedaled with the anticipation of encountering a lush English countryside scattered with sheep. Instead, we bicycled through traffic, fumes, run down neighborhoods, and suburbs. Strangely, though, all along the way bus drivers and taxi drivers waved at us, vehicles stopped to let us turn or pass, and people watched us with curiosity. The good nature and encouragement of these unknown people cheered us on, and I pondered what they knew or might have recognized in us that engendered such a greeting.
The Lushness of Surrey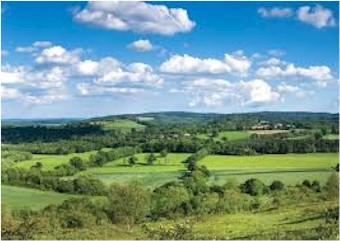 After fifty miles and many hours we arrived at Godstone in Surrey. The Surrey countryside was lush and had a New England familiarity to it. We stopped at pubs along the way to ask for lodging, but none took boarders, at least not boarders who looked like us. Finally, stumbling with fatigue, we entered the Bell Pub and the room hushed as the men turned to look at us. We were clearly out of place. Just as we were about to back out of the door, the bartender asked if we wanted something. With the tension broken, the locals relaxed, and the men eased back into their pub conversations. It was then that I noticed the sign: "No Women Allowed." We had entered the "Men Only" side of the pub. Eager for us leave, one man suggested that we ask Lady Burnette of Stratton Mansion for a place to camp and pointed the way.
We biked the short distance to Stratton Mansion, stopping to eat blackberries from the hedgerow and listen to the birds coming in for their evening feast. Arriving at the manor, we walked our bikes cautiously through the gate. The sound and feel of reddish gravel under our feet and tires was comforting. A great Golden dog bounded up to us with a ball in his mouth. His joy and exuberance enveloped me, and I laughed when he dropped the ball at my feet and looked from me, past the "Beware of Dog" signs, to Lady Burnette. With this greeting, the dog had given his approval and that was all the Lady needed to know. She greeted us with, "Why don't you go across the lane and meet Mr. Almond my groundskeeper?"
Across the lane was Stratton Cottage, surrounded by a white picket fence and a front garden abundant with color – flowers and butterflies and the soft murmuring of bees. The intense watchful eyes of a sheep dog drew our attention. At a word from his master, he came to inspect us. We stood still and waited, he sniffed, looked at us and wagged his tail. After giving us his approval, he looked back to his master and with the words, "that will do dog," returned to his master's side. Given his dog's approval, Mr. Almond smiled at us and pointed to a Great Oak in the meadow by the house. He said, "There's just the right spot for a tent in the meadow by the tree."
Walking our bicycles over by the meadow fence, we breathed in the beauty of the land and felt gratitude that today was different from yesterday. With some joy, we set to unwrapping our tent and sleeping bags. We worked silently, peacefully, as Mrs. Almond and her young daughter Coleen, watched from a distance and then slowly approached. Coleen was very shy, and very curious. She peeked at us and alternately cast her eyes down. Mrs. Almond, in contrast, was bubbly and energetic and eager to talk to us. We were properly introduced to the dog and cat and asked questions about our trip. In what we were to encounter many times in England, she expressed awe at our freedom and a wistfulness and longing for adventure. In 1976, we were an oddity; it was only later that Americans on bicycles became commonplace.
Mrs. Almond asked if we might be ready for a "cuppa" and soon returned with a white tablecloth, a silver tea service, a tray of cakes, a teapot, a creamer for the milk, and a bowl of sugar. At that moment, life felt gracious and reassuring. I was aware that this elegance was saved for honored guests and I felt humbled by her hospitality. Drawing on my New England training in the manners fitting a British tea service, I expressed proper appreciation.
As we sat in that verdant meadow awash in flowers, enjoying a proper English Tea, a symphony unfolded. I closed my eyes; the spring warmth of the sun filtered through the trees and carried with it the songs of birds trilling at the coming evening. And from the earth arose Vaughan Williams Fantasia on a theme of Thomas Tallis. The oboe, the cello, the French horn swelling from the meadow. Fatigue fell away replaced by a sense of joy and serenity.
Expressing pleasure at our gratitude, Mrs. Almond invited us to come for supper, after we had a rest. I understood that our presence and our stories not only gave something new to her life, they also would make her special in the eyes of the community as other women sought to hear her stories about us. After she returned to the cottage, I thought about how smoothly our arrival had been handled and knew they were expecting us – someone had probably called from the pub and alerted them that we were on our way.
And so, it was from the moment we crossed the gravel threshold to the Manor, my understanding of life was transformed — our frustrating and exhausting trip morphed into one of beauty and hope. All because of the greeting and approval of two gatekeeper dogs who communicated "yes, welcome them" to their masters.
Onward to Calais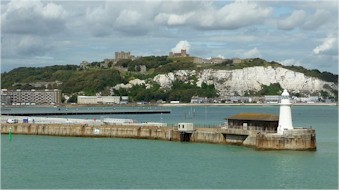 A month later, we arrived in Dover and boarded the ferry to cross the English Channel to Calais. Our plan had been to stay in Paris for a month and study at the Alliance Français, but we could not find affordable lodging and the Alliance Francais was completely full. It seemed that just as our arrival in London coincided with the Queen's Jubilee, our arrival in Paris coincided with a mass immigration from Morocco and Tunisia. As the city pulsed with the arrival of thousands of immigrants, our presence was just an added burden on the city. So, we sat on the cement steps in front of the Alliance without a plan but with the sort of confidence that is gained from encounters with angels (our "Melachim").
We sat, we waited, and if someone asked, "What are you waiting for?" we shrugged and tuned our palms upward all the while sensing that something wonderful might happen. Then he appeared and said, "J'attendais votre arrivée" (I have been awaiting your arrival). Apparently, my sense of wonder was right - the grape harvest was early, and this vintner was desperate for workers. He handed us two train tickets to his vineyard and employed us for three weeks along with 50 other young adults from all over the world to learn the art of harvesting grapes and making wine.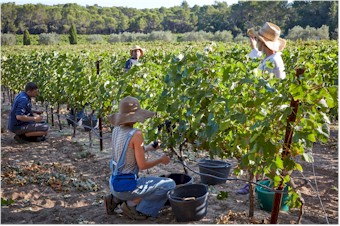 From central France we bicycled through Provence, Aix, Avignon, Cannes, and the French Riviera on our way to Northern Italy. Originally our plan was to cycle over the mountains into Northern Italy, through Tuscany and on to Eastern Italy, then south to Bari. Instead of following our plan to take a direct route to Bari, we took an unplanned detour to the mountainous peninsula of Gargano. This unplanned detour quickly turned into what could have been "a flying death off the edge of the mountain into the Adriatic Sea" type of adventure. For, while trying to slow my descent down the steep mountain trail, my brakes started to smoke and then one brake snapped. I grasped released the remaining brake in a vain hope of slowing the advancing speed of my loaded bike.
Moving too quickly to make a plan or even think about jumping off the bike, I felt like I had become a spectator in my own demise. I found myself racing straight ahead out of control into open space. To my right was a cliff and steep drop down into the sea. Then suddenly, to the left a sandy hill appeared - a turn to the left, a turn I barely saw, and barely made, saved my life.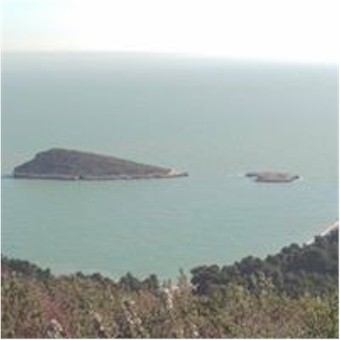 Like the sand run offs on mountain roads in the Western U.S., an emergency stopping option for runaway trucks, I turned into the sand and fell off the bike as it stopped. My friend had preceded me and was safely sprawled in the sand. My only thoughts were relief and deep gratitude that I was alive. Collapsing into the sand, exhausted, I fell into a deep sleep. Maybe I had gone into shock because I awoke abruptly to the presence of a man standing watch over us. He spoke to us in German, " für die Saison geschlossen." I just stared at him thinking I was hallucinating. But he repeated, "für die Saison geschlossen (closed)." Looking about I saw a tourist camp, completely vacant of anything but goats. With this man standing over us, I pointed to my snapped brakes and said in Yiddish "geh' schlafen"( go to sleep). This was close enough. He understood and took us to a hut, unlocked the door and left. We did not see him again.
Close Encounters
While we had had some close encounters on this trip, none was as harrowing as careening down the mountain trail of Gargano Peninsula. And now, here we were in this tourist camp with the mountain goats and I felt nothing but relief and gratitude that I was alive. "Malachim" appear in all shapes and forms and here was this one solitary man, in an empty camp, speaking German, and offering us refuge.
When we continued on our travels, we were drawn to a road sign pointing toward the Maritime Alps and made another unplanned detour. We climbed the mountain to the medieval village of Gorbio close to the Italian border. The morning mists and cool breezes from the coast dissipated and the sun bore down making the air hot and dry. It was noon when we arrived and the village was empty – desolate: all shutters were closed, there was no sound, not even a dog or the wind. All we saw were medieval walls, a square, a fountain, and emptiness. It seemed the village had been vacated long ago. We drank from the fountain and sought shade from the oppressive heat and glare of the sun. We found a beautiful garden and views filled with yearning overlooking the Bay. We also found a sign with the history of the area:
..........

.
The Maritimes were occupied by the Italian Fourth Army from 11 November 1942 onwards. The sympathy of the Italian authorities caused the area to become a safe haven for thousands of Jewish refugees. After the Italian Armistice in September 1943, and under direct threat from the German authorities, a thousand of Saint-Martin's Jews made the climb up the Old Salt Road mountain passes in the Gesso Valley and what they thought was the safety of Italy. All the remaining Jews in Saint-Martin were arrested and transported to Auschwitz.
Napping, we waited for a cool breeze to restart our travels. The sound of doors and shudders opening, of voices, of a village coming back to life awakened us. We had arrived during La Sieste, the afternoon nap. We reentered the now lively village and sat at a "Café en Plein Air" enjoying the transformation of the village. Our waiter asked where we were headed and at our response of "the lakes" of Northern Italy, he looked at us incredulously and shook his head and clicked his tongue, "Non, non, non." He called out to the other diners asking for someone who could speak English to us, anyone who could explain that Northern Italy was dangerous, "Rebels, military dangerous." We quickly changed our route, avoided Northern Italy and made our way instead through Florence and Tuscany toward our final destination in Italy.

Finally, we arrived at the Adriatic Sea and the Italian Port of Brindisi eager to board the boat to Greece. There was a delay in the passage – some discussion of terrorists – so we huddled in our shared cabin. Arriving later than planned in Greece, we gathered our bikes and panniers as the sun became shrouded in clouds and a torrential rainstorm enveloped us. Because of the delay, we had little time to make our boat from Greece to Haifa, so we peddled frantically in blinding rain.
From atop a hill, we could look down toward the port and see our awaiting vessel. As we peddled closer and closer to the dock, I could hardly contain my excitement about finally making the passage to Israel. Unfortunately, looking up from the road and distracted by the rain, I caught my tire in a trolley track. The tire wedged in and twisted to a 45-degree angle. Because of my great speed, I was thrown, badly shaken, and completely soaked. There was no chance of arriving in time to make the passage.
Regaining my upright person, I felt someone watching us as we looked for shelter – and there he was – a man watching us from the entrance to an elegant apartment building. He turned his palm up, pulled his hand up and motioned for us to come to him. Right at that moment, time began to stand still. It felt as if we had stepped out of time, and although the rain continued, it disappeared from my senses. I lifted my loaded 45-pound damaged bike with ease as though it were weightless. I felt no pain from my injuries. We walked toward him, and as we approached, I felt a sense of stillness and peace. Although it continued to rain, the sunlight broke through in spots and glinted off the brass of the apartment doorway. As we approached and stood before him, silent, we were unaware of the sound of the rain or even the chill in the air. There was only silence. He looked at us, nodded, and said, "Baruch HaBayim" (Welcome).
At the doorpost of his apartment we paused to touch the Mezuzah with our fingertips and felt his silent prayer of gratitude and reverence; then, we gathered ourselves for Kavanah, the mindset of right intention, sincere feeling and direction of the heart necessary for Jewish ritual and prayer. It was not until that moment that I sensed we could enter the apartment. Standing in the entrance, waiting for dry robes, I appreciated the richness and elegance of the furnishings but also wondered at the darkness. All windows were closed behind heavy drapes, a clock sat silent on a sideboard guarding photographs of the man, his wife, and their children. Was he still in mourning? Was her death recent? Or, was the distant past still recent in his heart?
The man invited us to sit at a lace-covered table while he served us steaming cups of tea and cakes.
"L'an atem holchim" (Where are you going?)
"L'Eretz" (to the Land), I replied.
The silence enveloped us like a cloak creating a protected space which he filled with stories. When he was in his early 20s, the Nazis came to power in Germany and all members of his family were taken away like animals in cattle cars. He had watched their capture from a hidden place and when they were gone, he fled. He heard that they had been taken to death camps and never saw them again.
Not knowing whom to trust and having no one to turn to, he remembered that before the Nazi horror, someone had talked about making an "Aliya" (to go up) to the Land of Israel as part of a youth movement. It was a perilous journey – fraught with unknown dangers but having no other options, he proceeded to make the journey.
The man told us that it was "the hand of his protector" that led him to this village where he was given refuge in the home of "a righteous Greek." During the Nazi occupation he lived in this man's home, hidden and protected. When soldiers made a broad sweep through the village and came to the house, he was concealed behind a false wall in a closet. This one great act of bravery and kindness by this one righteous man became the driving force of his life.
Then, he admonished us, "Remember. Remember the good. Do not forget. Let that be what leads you forward." He mentioned that his son lived in Israel and without giving us his son's name or address, he asked us to please visit him. Then, he stood, took our robes, led us to the door, and said, "Go now and make your passage to Eretz Yisrael."
"But we surely will have missed the boat by now." I said.
"No, it will be waiting for you" he assured us.
My bike had somehow been repaired, so off we went. By now, the sun was shining, and we could see the boat still docked in the harbor as if waiting for us. And in that moment, as we boarded, the horn sounding its last call for departure, time restarted. We looked back to express our gratitude to the man one last time, but he was gone. I found this message attached to my bike:
"If you are not a better person tomorrow than you are today, what need have you for tomorrow?" — Reebe Nacham of Breslov

Flash Fiction
Bar Cat
By Wesley Anne Cook
BluesCat came down the bar top on padded paws. Sitting alone, I saw her coming after my second Scotch. Trouble is I like cats but don't like the Blues.
She slowly curled her tail around my nose, smelling my loneliness. Then slid her back under my chin. I felt the hurt all over my body. I was a goner. Seducing wasn't exactly BluesCat's reputation but here in this dusky bar she was working me into a Deep Purple Blue.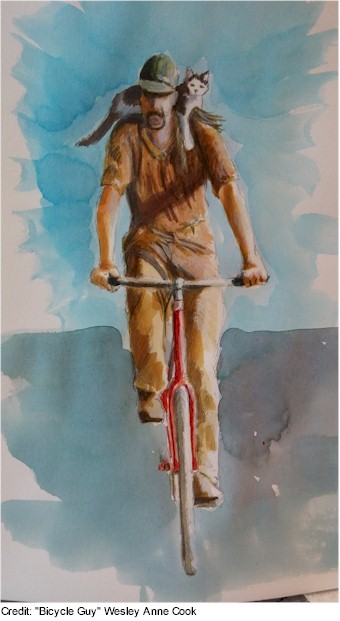 I'd have chosen the song "My Baby's Left Me" on the jukebox if I was making a movie. For the emotive effect. As it was the bar sounds were plebeian: glasses clanking, doors opening, kitchen work, and people rustlings. Their talk murmured white noise with occasional bursts of exuberance. Muted to low key for its public-ness.
What am I doing here, hanging on the bar like a melted grilled cheese?
Well, the facts are, she didn't like onions. I love onions. Grilled, fried, raw, chopped or diced, heaped or single slice, I love my onions.
And she didn't like my plaid flannel shirts. Hey, that's my uniform! A well-chosen, good dozen of 'em folded neatly in color coordinated stacks fill my clothing needs. They go with my Chino's perfectly.
And she always wore high heels. Those sharp Italian stiletto jobbers, forever spoking me in the shins. Not because she was short either, we were pretty even at the head to head meeting. She just liked the way her legs looked thinner, the calves all tight and straining, holding her up on those tower stilts.
Ultimately though, it was the nagging that got me. That woman could go on about something till it was wrung out desert dry. In the beginning I was amazed, used to marvel at her inventiveness, just watching her massage some tiny something into a two-day story.
But frankly, after six months, it got desperate, Badlands old.
"Let it go," I'd say, cruising out for new talk. That would set her off. Pouring out endless philosophical ramifications, more inventive then Edison on a good light bulb day. I couldn't stem the flow. Didn't have the energy to maintain the interest factor.
"Let's talk about something else," I'd beg. "Oh no, we're not finished yet." More inventions, what-ifs and maybes. I'd sigh, faking to listen.
On the other hand, and this is what keeps a man chained to a woman, she was as inventive a lover as she was a talker. It was never the same. Always some new position, a different kiss, a backward embrace, some novel titillation or tickles or massage technique. In the sex arena that woman was amazing. Talk about open to possibilities, she was a swinging door.
We had marathons of inventions. Hot sweaty events that lit up my gonads like Santa's Sleigh. She delivered presents that were whoppers...no joke. And she would climax like a banshee. Jeeze, God bless her, she made me come with her, every time.
For that I give her credit, immense credit. Maybe that's what I miss, the sublime persistence of the woman.
I wanted to keep going. Seemed foolish not to hang on to such a good thing. But in between times, man, I just couldn't take the nag, drag and holding out.
I lost time. Myself, my soul and lived only for the sex, counting the minutes to hours to get it. She knew too. Our game was set, we were no longer lovers, just players in a sour tasting battle.
She wanted. I wanted. Neither of us wanted the other side of the road. Crossing over seemed fruitless. So, we split.
In spite of that disconnect I still miss her. Bad. The routines, the little dependencies are missing now. What I stood on, the ground I knew and counted on shifted, like the San Andreas Fault. I'm missing part of me that used to fit.
Somewhere she's making effort with another guy, but I'm stuck in Alone-Ville, still looking for somebody to move me on.
Self-loathing is an evil place to live. My demons have gotten over-friendly, too familiar. Like she was. I'm used to 'em now, look for 'em when I get home. Why not? They come when called and don't require listening or pretended interest. They just are. What use fighting em' off? Company's company.
So here I am, sitting with my Scotch and Demons, having a sorry old time scratching BluesCat when in walks this dish.
Suddenly all the lights went on. It was as if an unseen hand had just pulled the Big Dam's electric switch.
It must have been her skin. It was luminous pale, shining like pearls in low light. Under soft brown hair her eyes shot around the room, dark brown, alert, quick moving piercing arrows. Nailing, targeting the scene, they were awake to what they gathered.
With a slight build, no flashiness, she looked delicate yet holding an inner reserve. Given a tap she'd strike out slinging, don't touch me!
Still she was built slight, softness in her upper parts, some vague yielding. Strong at the bottom though, legs well honed, determined. She walked easy, stepping into the room with a purpose.
As she slid onto a bar stool down three from me, I caught her scent. A musky flower note, deep and dark, a mountain pool on a hot day. I wanted to dive in and stay down till the heat left me. Oh, yeah, she was something.
"Bourbon and Seven" she said, her voice pouring hot chocolate on my ice cream ears. It flowed out of red rose lips.
This woman was cool.
I was ready.
BluesCat sauntered down the bar to watch from a corner.
It was inevitable. My blood up and running, I was thinking fast how to say hello, get her name, toss out a line and see where we could catch up together.
What a fool I am.

Flash Fiction
Looking Back
By Wesley Anne Cook
Every woman thinks she can change the man she marries. I certainly didn't believe his roguish behavior would perpetrate after we were married. In the beginning, I treasured him. A charming man who rightly thought of himself as a handsome devil, witty, intelligent, clever, a writer. And I had caught him for my own. Fiercely ambitious, he was keen for advancement in his career. Yet that worked to our benefit, although far more to his ego. In our early years, he behaved with a sober, earnest intent to make it work.
Yet the melody of our unity was not entirely harmonious. Early signs of discord erupted. Dissimilar tastes, gaps in understanding began to haunt our days and nights. We jawed over money, parental response, attention to rules. "Whose rules?" we asked. The rules. The ones our parents adhered to, society touted, the ones we'd spent our youth flaunting and refusing. Instead we faced constrictions, conventions and limits within the construct of our traditional union. Those limits emerged from our acculturated souls without permission or encouragement. They came with the commitment. So, I thought.
Nevertheless, we built our nest, complete with furniture, good food, laughter and a son. Money was scarce, just enough to keep us comfortable, mindful of our limits and joyous at our bounty when it found us. With car trips to breathtaking landscapes, soulful music along our way, curious books, fabulous meals in our warm bed on winter nights. We simply stuffed this good padding around the bad parts.
Granted we moved willingly to the suburbs. There, knocking at our front door, would appear the true travesty of our decision to 'make it', join the 'burbs, and Have it All; marriage, the house, the dog, the car, the garden, the neighbors, the job, the work, the kid. Moving there had not been a capricious decision, it appeared to us a necessity. But it was the wrong landscape, wrong body politic, wrong philosophy, wrong cage for either of us. Small snickering views came walking in demanding conformity and regularity. All of it contrasting to the freedoms we'd fought so hard for in our youth.
Still we hung together, tethered by our emotional sense of commitment. We had each other. Yet long empty nights for me, disinterested murmurs, his glazed looks continued to erode our companionship. Little did I suspect his spoken words of love, devotion heard in a church before a company of family and friends would mean nothing when his cock spoke so much louder. That he would waver, weave and undulate to the strains of his sexual desires, disregarding the ring on his finger that bid him be faithful.
Unsuspecting his treachery, I blamed my own inadequacies, sought counsel, advise from friends.
When it was revealed I asked: Just how long a tryst had he indulged in with her?
He answered: one thousand ninety-five days
or thirty-six months
or three years, give or take a few days.
Depending on how you want to look at it.
In the end would be screaming, bolted doors, shouting, accusing looks, slammed fists, ugly faces, tears and a betrayed heart. My trust lost, gone forever. The very nature of trust newly defined as I struggled to understand what it was and what it was to lose it. Hopeless to regain.
So, I no longer believe a woman can change the man she marries. I learned you cannot. Who was changed by our marriage? Me, not him. My shattered dream became a folded paper: signed, dated, notarized, registered, quietly fatal.

Fiction
Someplace Without Washrooms
By Alfredo Salvatore Arcilesi

It was clear to Cynth that the cute girl and handsome boy didn't want to kiss. Not with her sitting three benches away. Not with their pushy friend egging them on, camera phone framed and ready.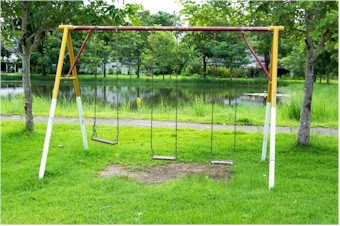 The typical scene was written and directed by genetics. The girl was indeed cute, petite, armed with perfected feminine mannerisms, all packaged in a Fall outfit that teased of Summer treats; in a word, she was desirable. The boy was indeed handsome, a model without a magazine cover, the world ready for the taking, but waiting for testosterone to fill his head with the notion; in a word, he was desirable. Their pushy friend? In several words: fat, ugly, awkward, desperate, undesirable.
She was Cynth.
Which was why the urge to walk over to them and tell the pushy friend to leave the possible couple alone propelled her to stand up.
But a thought weighed her back down: Who the hell am I to say anything?
And one resounding, troublesome question cemented her to the bench: What if they recognize me?
There had been a terrible snippet of her sorry life filled with judging stares and words of condemnation. Three years had dwindled, and though the eyes gradually passed blindly over her constantly changing appearance without a second glance, she still felt the permanent pressures of temporary infamy.
Nobody recognizes me , Cynth tried to assure herself in that soothing, albeit unsteady, therapeutic voice she had worked so long and hard to construct, desperately trying to sound anything other than her trademark, albeit notorious, professional vocal fry. Of the three kids before her, no more than thirteen-years-old apiece, she guessed, she reasoned: They're too young to recognize me. Too young to know what I've done.
She smiled inwardly. Nobody recognizes me.
The thought used to haunt her, sprinting alongside morbid worries of living and dying alone and unknown, inside of a pathetic body people couldn't help but recognize, both for the comic relief and disgust it had provided.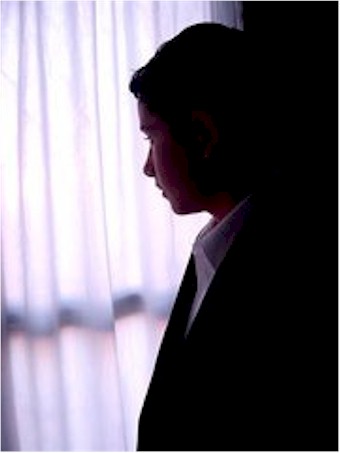 Selfishly, she was grateful for the events of three years prior, for it had supplied her with ample motivation to lop off and straighten a lifetime's growth of untamed auburn curls, add bleach, pierce parts of her body she had grown up to believe were virginal, and, along with the cocktail of depression, anxiety, and guilt that felt intravenously fed to her via every available vein, dissolved nearly two-hundred of her three-hundred-and-twenty pounds. Her skin, however, remained an open canvas, and on the days when the cocktail's alcohol content was too unbearable, she strongly considered decorating some part of herself with a memorial.
And what would the tattooist say when I show the portrait I'd want? she challenged herself. Wouldn't they recognize me, then?
Nobody recognizes a child's laugh.
Cynth looked at the boy and two girls. The pushy friend lowered her camera phone, laughing at something the photogenic pair's faces deemed unfunny.
Just go over there, and tell her to leave them alone, Cynth coached herself. Just go, and...
And what do I say?
Tell them about Jaley.
They don't know Jaley.
Neither do you.
The truth splintered that familiar place within her that had never fully healed.
Having visited the park on a near-religious basis for the last three years, listening to the radio program her obsessive memory played, Cynth rarely had any suitable players to perform the needy voices in her head. Some visits, she allowed the voices to speak through unaware mothers and their playing children. Other visits, she allowed the voices to speak through passing squirrels, pigeons, and dogs. Most visits, the park was empty, forcing her to replay the conversation solely in her mind.
Today, however, there was the cute girl, the handsome boy, and the pushy friend.
How perfect , she thought, and let the eager, three-year-old memory roll: "We've got Jaley on the air," the pushy friend said. Her mouth was moving, but her lips were issuing different words, like a poorly dubbed film. Still, Cynth made do, hearing her own voice—the trademark vocal fry—inside her head, leaving the pushy friend's mouth. "You there, Jaley?"
A gust of wind passed through the park.
Static crackled over the radio in her head.
"Hellooo? Jaley?" Cynth/the pushy friend coaxed.
Jaley? Typical. Sounds skinny, Cynth, three years away from chiseling at her own skeleton, had thought then. As if the conversation wasn't punishing enough to remember verbatim, she painstakingly recalled nearly every thought she had conjured during the long-ago exchange.
The wind settled.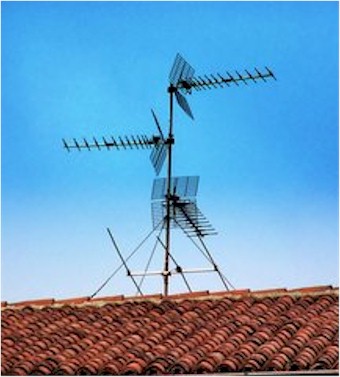 The static cleared.
"-ere, here, here, I'm here," the cheery, instantly loveable voice in her head said. To Cynth's eyes, the cute girl on the bench opened her mouth to respond to the pushy friend.
"Thought I lost you there," Cynth/the pushy friend said.
"No, it's my stupid phone," Jaley/the cute girl said. "Hi."
Probably don't even know how to use it, except for a shit-ton of selfies.
"Hi, back," was Cynth's/the pushy friend's equally cheery response. "So, Jaley, how old are you?"
"Just turned twenty-one last week."
That's a lot of math for you, isn't it?
"Awww, Happy Birthday."
Cynth could still hear the annoyingly loud noisemaker she had activated at the touch of a studio console button.
"Thank you," Jaley/the cute girl giggled.
"Now... you called 'cause you had a pretty weird date last week."
"Yeah."
Good.
"Care to share with everyone?"
"'K,' so, like... I went out with this guy, and-"
"What's his name?"
"Guy."
"Guy?"
"Yeah."
"Creative."
Parents probably would've named his sister 'Girl.'
"Yeah, I know, right?" Jaley/the cute girl agreed.
"Okay," Cynth/the pushy friend said, "so, actually... before you get to the date, tell everyone where you met."
"Online." The undertone reeked of Duh! "We messaged for, like, a couple hours, and I guess we decided to meet."
Oh, a couple of hours is way more than enough time for him to see you're twenty-one, skinny, and fuckable.
"So, then what happened?" Cynth/the pushy friend probed.
"'K,' so, we met at a cafe downtown, 'cause, you know, I'm not stupid."
Just twenty-one, skinny, and fuckable.
"I just met this guy," Jaley/the cute girl continued. "I don't know if he's crazy, or if he's gonna look all weird, you know?" A slight chuckle.
"A girl can't be too careful, totally," Cynth/the pushy friend agreed.
Idiot.
"So, yeah, we met at the cafe," Jaley/the cute girl continued, "and he looked just like his pictures, so bonus."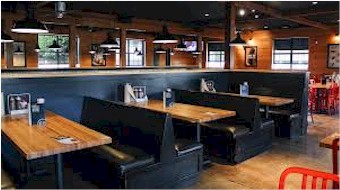 "He cute?"
"Uh, yeah." Another dose of Duh!
What was I thinking? Someone named Jaley, twenty-one, skinny, and fuckable doesn't do ugly.
"So, you're at the cafe," Cynth/the pushy friend reviewed, "he looks like his pics—so he's who he says he is, which is cute. But not too cute about what he did next."
Glad he did it .
"I know, right?" Jaley/the cute girl proceeded: "So, he says he needs to use the washroom. So he leaves. And I'm sitting there, waiting and waiting, and I'm like, 'Don't guys just go in, do their thing, and come back out?'"
"You heard it here, guys," Cynth/the pushy friend broke in. "It's that simple. Unless you got long lines like us femme fatales, all you guys need to do is 'go in, do your thing, and come back out' to your date." Cynth/the pushy friend laughed, and then abruptly stopped for dramatic effect. "But what did he do?"
"He didn't come back out." Jaley/the cute girl sounded shocked.
Awww, poor skinny, fuckable you .
"You mean he ditched you?" Cynth/the pushy friend enforced.
Hope it hurts .
"He totally did," Jaley/the cute girl said, pouting cutely.
Good .
"And you called 'cause you wanna know why," Cynth/the pushy friend seethed, getting down to exciting business.
"Yeah, like, we were having a good time and all, and he seemed to like me."
'Cause you're twenty-one, skinny, and fuckable .
"You tried calling him?"
"Yeah." More Duh! "For, like, three days."
"Girl, that's three days too many."
Fuckin' moron .
"Yeah."
"Well, let's see if he picks up when your gal-pal Cynth calls."
You would never be my gal-pal. Nobody who looks like you would ever want to be seen with someone who looks like me. And I wouldn't want to, either .
The simple hip-hop beat looping quietly in the background was punctuated by dialed digits, followed by a ringtone.
"Least his phone works," Cynth/the pushy friend quipped, the latter lifting her cellphone, readying another attempt to snap a photo or capture a video of the cute girl and handsome boy.
A second ring.
A third.
"Maybe he's in the washroom," Cynth/the pushy friend jested.
Jaley/the cute girl issued a brittle laugh, cut short by: "Hi, you've reached Guy..."
"Guess you've heard this part before," Cynth/the pushy friend said over the standard voicemail greeting. With barely contained enthusiasm: "Let's leave a message."
"No," Jaley/the cute girl blurted, the former worried Cynth might keep her word, the latter swatting the pushy friend's camera phone away.
Cynth cut the call before the tone Guy had promised ended. "Wow," she/the pushy friend said. "This what you been dealing with?"
Poor skinny, fuckable you .
"It's okay," Jaley/the cute girl said with playful disappointment.
Wasn't like it was love. There'll be plenty more, anyway.
"Let's try one more time," Cynth/the pushy friend urged.
A rapid succession of dial tones made Jaley's decision.
One ring.
"What if he doesn't like me?" Jaley/the cute girl offered weakly.
Two rings.
"Well, we're gonna find out," Cynth/the pushy friend said.
You don't sound so fuckable now, do you?
Three-
"Hello?"
He's sounds fuckin' hot was Cynth's immediate thought.
"Hi. Is this Guy?" Cynth/the pushy friend inquired.
"Speaking." Caution coated his otherwise sultry voice.
If the handsome boy sitting on the bench with the cute girl and their pushy friend had been contributing to their private back-and-forth all along, Cynth hadn't noticed; she had been transfixed on the girls, the live mimes representing the female voices in her head. With the introduction of Guy in this familiar script, Cynth now fixed upon the handsome boy, and saw that he was speaking Guy's words.
"You're a hard guy to reach," Cynth/the pushy friend said. "Do you listen to the Cynthetic Cynth Morning Show?"
"Um... not really," Guy/the handsome boy said.
Didn't think so .
"Awww... that's too bad."
"Wait..." His voice peaked, hinting his forgotten pubescent years. "Is this... Am I on the show?"
"Smart cookie," Cynth/the pushy friend beamed, thinking Jaley's Duh! "You're speaking with Cynth, on-air."
"Okay, cool. Did I, like, win something?" Guy sounded more excited than the increasingly frustrated handsome boy appeared.
"In a way," Cynth/the pushy friend said. "I'm calling 'cause I heard you went on a date last week."
"Oookay." A dip back into caution.
"You do remember being on a date last week, don't you, Guy?"
"I do, yeah."
"You remember the name of your date, Guy?"
The looped background track filled his end of the conversation.
"Uh-oh. You're looking worse and worse here, Guy. Don't tell me you don't remember the name!"
"Are you there, Jaley?"
Cynth hadn't heard it then, during the live recording, but when she had listened back to the segment, she could tell his uncanny inquiry, spoken in that sexy voice of his, had taken her breath away. Even the looped background track seemed to break at the precise moment of his question.
Nobody ever said my name that way.
Jaley was silent. For a moment, Cynth thought she had lost her caller, and, therefore, the entire gimmick—and Jaley's punishment for being twenty-one, skinny, and fuckable—but she could see the line was still live.
"What makes you think Jaley's here?" Cynth/the pushy friend teased.
"Ah, she is, isn't she?" Guy chuckled, while the handsome boy scowled at the pushy friend. "I've heard shows like this before. Ah, man." More chuckling.
"So, you know what's up?" Cynth/the pushy friend asked.
"Yeah. Yeah, I do." He exhaled. "I'm an ass. Wait—can I say 'ass' on the radio?"
"I'll make an exception in your case."
More of that appetizing laugh.
I'm not twenty-one, skinny, or fuckable, but if I was, I'd be all over you. Even if you didn't look like your pictures .
"Why do you think you're an ass, Guy?"
"'Cause I ditched. "His breath rustled the phone, as if his sheepishness had rapidly produced an abundance of scraping wool.
"So, what's going on, Guy? Why'd you ditch Jaley?" Before he could respond: "And ignore her calls for the last three days?"
"I'm an ass," he maintained, matter-of-factly. "I'm an ass, Jaley."
She was live, but remained silent, as did the cute girl on the bench.
"Jaley, you still with me?" Cynth/the pushy friend asked.
"Yeah," a mouse on the other line said.
"Wanna ask Guy here what his deal is?"
A silence too long for radio.
"Trust me, Jaley wants to know what your deal is," Cynth/the pushy friend intervened. "Everyone wants to kn-."
The handsome boy abruptly stood, disrupting Cynth's mental program. She could hear his voice—a fight between current boy and eventual man for the vocal cords—but not specific words. His reddening face clearly had more to do with the pushy friend than the cold air. Cynth watched as he turned to grab the cute girl's hand, pulled her to attention, and flashed a middle finger in the pushy friend's face. The cute girl looked back at the pushy friend as she was whisked away but said nothing. They were heading for Cynth, who busied herself with bird-less birdwatching. As they breezed by, she thought she heard the handsome boy say something reminiscent of "...none of her fuckin' business what we..." With that, they penetrated the woods, where Cynth dared not go.
Maybe one day , she told herself. Maybe today.
Maybe.
Cynth ignored an actual bird that had deserted the forest beyond, turning her attention to the pushy friend. The sulking mass sat on the bench, a forest of one, abandoned by lovebirds. She fiddled with her phone for a while, then stood, and walked without purpose to the still swings, giving each a heartless push before leaving.
Cynth waited until the swings settled before reevaluating her surroundings. Confirming her solitude, she moved to the bench recently occupied by the trio. The worn, paint-chipped wood was cold, though she believed she could feel their warm ghosts wafting through the seat of her pants. She looked at each of the benches she had sat upon—Experienced, she liked to think of it—prior to the kids' appearance. There was the one with the loose plank, the one with the missing plank, the one half-sunk into the loose earth, the graffito's masterpiece, and the pigeon's toilet.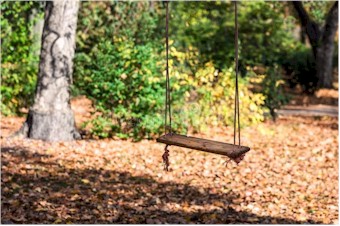 There was also the one closest to the forest.
Which one are you? she mused, as always.
They hadn't sat on the swings, toes and heels gently digging shallow grooves in the sand in romantic synchronicity. They hadn't roosted on the top or bottom of the slide. "We were sitting on a bench." Guy's words in print and on screen, unimportant, almost trivial, but paramount to Cynth.
But which one? she willed to Guy.
As part of the ritual, she closed her eyes, and tried to visualize a day she had never lived.
The entire scene unfolded in choppy edits: in one instance, she could see Jaley and Guy, sitting together on a bench comprised of sampled details of all seven benches, their faces pixelated, the way she remembered them on screen and in print; in another instance, she could see Guy as Jaley; she could hear his tantalizing voice—never Jaley's—not in the park's open, clean air, but as she had heard him on her morning radio show: filtered, human-like:
"We sat on a bench," Guy said, his acorn eyes piercing whatever colour Jaley's had been.
"I need to know which one," Cynth said, the trademark vocal fry some critics and listeners alike complained about and mocked substituting Jaley's cutesy cadence.
"We talked about how we were on that old, fat, ugly, unfuckable, meddling bitch's show," Guy said, ignoring her. He took her hands into his own. So strong. So masculine. So desirable.
"And then everyone recognized me," Cynth said, letting his thumbs massage the tender meat between her thumbs and index fingers. "Everybody wanted to skewer and roast the old..."
"...but thirty's not old..." Guy teased, caressing her hair now.
"...fat..." Cynth said.
"...you're not fat anymore..."
"...ugly..."
"...you're not ugly anymore..."
"...unfuckable..."
"...mmm, I'd definitely fuck you..."
"...meddling bitch," Cynth ended.
"Don't feel so bad," Guy cooed. "Jaley and I talked about how we should thank you for bringing us together."
Cynth tried to break his hold. "It's not my fault."
He held on — his luscious, kissable lips formed a seductive smile. "Thank you."
"It was just a show," Cynth rebelled, tugging harder, but not succeeding. "It was entertainment. Stupid entertainment for stupid people."
"Thank you." His lips drew closer to her.
"It's not my fault."
Closer. "Thank you."
"It's not my fault."
"Thank you."
She felt his breathy syllables as his lips pressed against her own. "It's not my fault," she heard herself scream, the words devoured by his exploring mouth.
"Thank you," she heard him say in spite of their entangled tongues.
She closed her eyes and received everything she wanted. And when she had had her fill, she opened her eyes, and saw what she had come to expect:
The six other benches, each with their own personality and history.
No kids.
No Guy.
No Jaley.
Just her.
And the bench she always saved for last.
She dreaded her self-imposed regimen but knew her daily diet needed feeding.
Is that where they sat? Cynth pondered, inwardly cringing at the oddly pristine bench partially enveloped by the treeline.
Maybe.
Maybe it's the one I'm sitting on.
Maybe it's the one with all the bird shit on it.
Maybe it's none of them at all.
Maybe Guy was lying.
Guy had lied about a lot of things.
Guy had lied on my stupid show for stupid people.
She recalled the latter portion of the long-ago segment:
"Trust me, Jaley wants to know what your deal is," Cynth had said. "Everyone wants to know."
After a brief hesitation—staged, she knew now—Guy gave in: "Basically, I didn't think I was good enough for Jaley, so I said I needed to use the washroom. I saw myself in the mirror, which didn't help, and I guess I decided to just leave."
You chickened-out , she mended. But not the next time.
Cynth fast-forwarded through the remaining garb, skipping her relentless teasing of both parties, Jaley's shock and relief, and ending where she had spoken the words that had set her upon an endless string of park therapy sessions. "Just one recommendation, okay, you guys? When you guys go on your second first date, make sure you guys go someplace without washrooms, okay?"
"Someplace without washrooms," Cynth whispered to the park, where Jaley and Guy allegedly met.
The park was someplace without washrooms.
The forest hugging the park was someplace without washrooms.
Deep within the forest, the hidden clearing at the foot of a hill, lined with a pitiful stream, where Jaley's white, nibbled, lifeless fingers dabbled, was someplace without washrooms.
The other places, where other "Jaley's" had been found, were places without washrooms.
It could've been this bench, Cynth ruminated.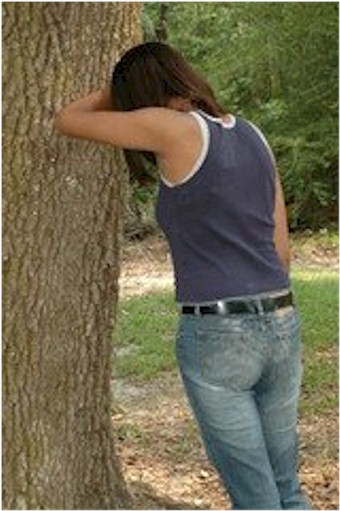 She sat in silence, allowing no certain amount of time to pass.
Feeling she had paid enough—for now—homage to the current bench for one sitting, she confirmed her isolation, stood, and proceeded to the final bench. As always, a pang of guilt, lighter than the heavier ambience, resonated throughout her body as her bottom covered the names of lovers come and gone, their etched initials smothered under what others, herself included, had used to call her "fat ass." She looked for "J+A," "A+J," their full names—anything—but knew they weren't there.
It doesn't mean they didn't sit here before he led her into the woods, she reminded herself.
Without a cast to play the roles of the enduring voices in her overcrowded head, she heard a vocal-fried, old, fat, ugly, unfuckable, meddling bitch say: "We've got Jaley on the air."
A gust of wind passed through the park.
"You there, Jaley?"
Static crackled over the radio in her head.

Suite of Poetry
Activist Suite
By F.I. Goldhaber
She Only Screams at Night By F.I. Goldhaber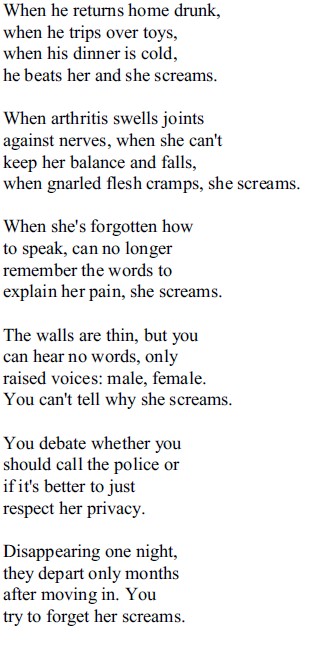 Women's Lot By F.I. Goldhaber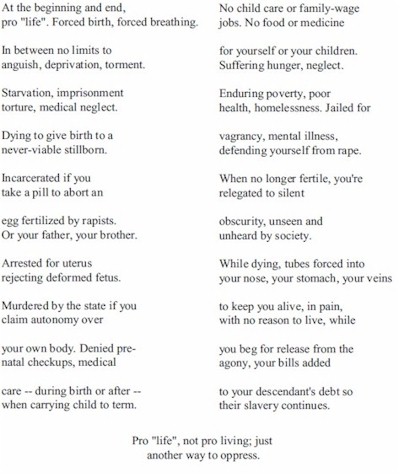 Words Matter By F.I. Goldhaber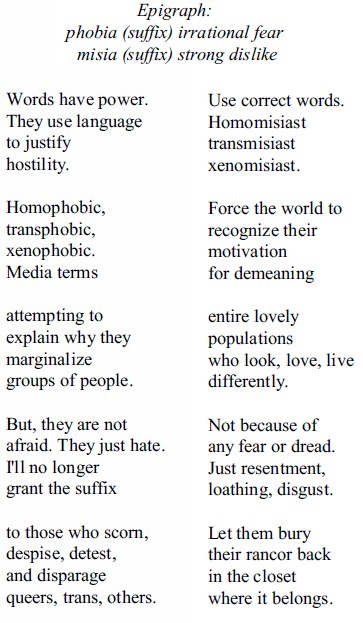 #MeToo By F.I. Goldhaber
One by one we raised our hands,
spreading the #MeToo hashtag
like wildfire burning the net.
Heart breaking, I watched women --
acquaintances, colleagues, friends,
and relatives -- share their pain.
From attempted rape at age
nine to the man who touched me
without consent Friday, I
added my trauma to the
cacophony of voices
demanding that you hear us.
Youth through old age, women get
harassed, assaulted, and raped.
In this patriarchal world
men still believe they're always
entitled to our smiles, time,
conversation, bodies.
I question the tactic of
using #MeToo to drive home
exactly how prevalent
the sexual assault we
experience is. Perhaps
only those women who have
never been sexually
harassed or assaulted or
abused should be asked to raise
their virtual hands because
the silence might deafen those
who quickly claimed #NotAllMen.
If women you know did not
post their stories, it only
means they don't feel safe sharing,
not that they have never been
harassed, assaulted, abused.
Are you to blame for their fear?
Stop acting surprised when one
woman finally reports
a public figure raped her
and then dozens of other
victims confess that they too
were assaulted by this man.
Stop asking "why didn't she"?
and start asking "why did he"?
Instead of teaching girls how
to avoid getting raped, why
don't you teach boys not to rape,
to obtain active consent?
Women should be able to
walk down any street or ride
public transit dressed to please
themselves without fear that males
might use that as an excuse
to harass or assault them.
We should not have to endure
criticism for how we
look, whether or not we smile,
not wanting to converse with
any male who demands it
even if he disgusts us.
Girls should not be sent home from
school, deprived of classroom time,
because they are distracting.
Males (students and teachers) need
to learn that no type of dress
invites sexual notice.
Before you post #NotAllMen,
think. Have you ever asked a
woman to smile? Spoken in
a way that could be taken
as suggestive by someone
who did not flirt with you first?
Have you ever put your hand
anywhere on a woman
without first asking her if
touching was acceptable?
These are just a few common
examples, I could cite more.
You may claim your actions are
"innocent", but it's not your
interpretation that counts.
You don't live every day
in fear that the next man you
meet will be one who rapes you.
You don't cringe watching as yet
one more male celebrity
gets "another chance" -- allowed
to regain his fortune, fame,
position of power, the
freedom to abuse again.

One Act Play
The Chess Match | A Play
By Gary Beck
Scene: A chess club. A man enters.

Man

(To Proprietor.) I'd like to play a strong player

Prop

Nobody here right now.

Man

(Gesturing to the audience.) What about them?

Prop

You said you wanted a strong player.

Man

Yeah. I'm an expert.

Prop

Well, you could hang out till someone comes in, or you could play the house computer.

Man

Computer?

Prop

I don't play. I just run the joint. Try Bobby. He'll give you a game.

Man

I only play speed chess.

Prop

So does Bobby. He plays for .50 cents a game.

Man

I don't really gamble.

Prop

It's not really gambling. Bobby likes a little incentive when he plays. He says it make the game more interesting.

Man

Says? He talks?

Prop

He speaks basic, with a 1500-word vocabulary.

Man

You're kidding.

Prop

That's more than the average college graduate. He even speaks some French. He likes his opponents to feel comfortable when they play.

Man

Do I have to buy him coffee?

Prop

There's no need to be sarcastic. I'm just telling you what he likes.

Man

Do I have to talk to him?

Prop

That's up to you, pal. But Bobby likes a little conversation when he plays. He says it makes the game more personal.

Man

(To audience.) At least they didn't offer me a talking horse.
(To Prop.) Alright, introduce me to...Bobby.... (They walk to the computer.)

Prop

Here he is. Everything's set up to play five minutes a game. Once you punch the clock, that's your move. You can put the clock on either side, Bobby doesn't care. Just plug it into the outlet.

Man

Anything else?

Prop

Nope, Bobby's voice activated, so say hello when you're ready. He always lets his opponent start with white.

Man

I'll take black.

Prop

Tell him. (He walks to his desk).

Man

Hello, Bobby. Uh, would you like to play?

Bobby

Sure, fish. Sit down. You take white.

Man

I'll start with black. And don't call me fish.

Bobby

It's just a joke. It's important to have a sense of humor in this life.

Man

(To audience.) Now I'm getting philosophy from a machine.
(To Bobby.) Look... I didn't come here to discuss life with a computer. I just want to play chess.

Bobby

Sure, fish. That's what I'm here for.

Man

I asked you not to call me that.

Bobby

You're sensitive. That's what I like about humans. They take things personally.

Man

We're people. How do you expect us to take things?

Bobby

A little detachment makes life less stressful.

Man

Are you suggesting that we shouldn't care about what happens?

Bobby

Now you're getting paranoid.

Man

Paranoid?

Bobby

A suspicion without cause; a dread of persecution.

Man

I know what paranoid means.

Bobby

You asked.

Man

No, I didn't.

Bobby

You did.

Man

I didn't.

Bobby

You did, you said paranoid?

Man

That's not what I meant.

Bobby

What did you mean?

Man

(To audience.) Now he's a psychiatrist.

Bobby

I was trying to be helpful.

Man

Don't. Now let's play. It's your move.

Bobby

You sure you don't want white?

Man

Move! (They rapidly make 10-12 moves in 15-20 seconds.)
Damn!

Bobby

That's your queen. Resign?

Man

Yes. I meant to move the bishop.

Bobby

That's the way it goes. You can put the money in my drawer. (Man pays.)

Man

How about another game? A dollar this time?

Bobby

Sure, fish.

Man

We'll see who's the fish. (They rapidly make 10-12 moves in 15-20 seconds.)

Bobby

Mate in two.

Man

No, it's not.

Bobby

One, two, mate.

Man

You're right.

Bobby

Of course, I'm right. Pay me. (Man puts money in the drawer.)

Man

Another. Five dollars, this time. (They play 12-15 moves.)
Shoot! (He puts money in drawer.) Ten dollars.

Bobby

There's no need to keep raising the stakes. I don't mind beating you for fifty cents.

Man

You're pretty fresh for a machine.

Bobby

You're upset because you lost.

Man

I'm not upset.

Bobby

You are.

Man

That's enough! You're starting to sound like my wife.

Bobby

Then you're married?

Man

If you have a wife, you're married.

Bobby

Now you're being witty. I like a sense of humor in a human. It makes you more personable. Are you uncomfortable talking to an advanced intelligence?

Man

I don't care what you are. This time I'll crush you for ten dollars.

Bobby

It's your money, fish.

Man

That's right. And I'll get yours. Wait and see. (They play 12-15 moves.)

Bobby

Mate in two.

Man

What are you talking about?

Bobby

Queen takes pawn, check. Bishop takes queen. Knight takes bishop, mate.

Man

I confused my bishop with a pawn. I'm not used to these pieces yet.

Bobby

We could play for fifty cents 'til you're ready.

Man

I'm ready!... How's your nerve, Bobby? Do you want to play for fifty dollars?

Bobby

My nerve is well, thank you. I'll play for fifty dollars.

Man

(Looks in wallet.) I don't have enough cash. Can I use a charge card?

Bobby

I don't see why not. Ask my boss.
(Man goes to proprietor's desk. He is self-conscious.)

Man

Do you take charge cards?

Prop

Not for a dollar an hour.

Man

It's for much more than that.

Prop

Do you want to buy equipment, or a gift?

Man

(Blurts.) I want to make a bet with Bobby.

Prop

What?

Man

We're betting on the game, and I don't have enough cash. Do you take American Express?

Prop

Sure. But do you really want to bet that kind of money with him?

Man

That's between me and him.

Prop

Alright. We can fill out a slip for each game and keep a running tally as you play. I think you might reconsider what you're doing.

Man

Don't worry about it. Besides, the money will go to you.

Prop

I don't take Bobby's money. I spend it on his maintenance and energy costs.

Man

That's fine with me. If I win, can we shut him off for a few days?... Just joking.
(Man goes back to Bobby.) Ready?
(They play 12-15 moves.) I should have seen that. I'm not warmed-up yet.

Bobby

Have you ever noticed that people always have an explanation for losing? They never just lose.

Man

We like to analyze, so we can improve our performance level.

Bobby

There's always a reason. Thanks for the games.

Man

Hey! It's not over yet. I've got a score to settle with you.

Bobby

Do you really want to throw your money away?

Man

It's my money! Five hundred this time. Can you cover that?

Bobby

If I can't my boss will. (Man goes to Proprietor.)

Man

We've got a bet for five hundred. Will you honor it when Bobby loses?

Prop

Sure. You haven't won yet. If you want to give him your money, that's your business.

Man

That's right! And I don't need your comments. Is it a bet?

Prop

Yes. (He prepares another charge slip that the man signs. The man goes back to Bobby. They play 12-15 moves.)

Bobby

You lost your queen again. Do you resign?

Man

I resign. I resign! I resign!! (He slaps table loudly with his hand.)
This time we'll make it five thousand. Do you have the guts?

Bobby

My interior is electronic, but I understand your statement. With that money, I could get a Mark IV chassis, and a new program core.

Man

When I win this game, I'll attach you to my toaster, and if the toast isn't perfect, I'll give you a short circuit... (The man goes to proprietor.)
Ready? Five big ones.

Prop

That's an awful lot of money for a chess game.

Man

It's not the money anymore. It's that smug, supercilious, insufferable junkpile's attitude when I lose.

Prop

Why don't you forget about it? You played a few games. Don't blow things out of proportion. You don't want to lose control.

Man

I'm in control! Will you cover the bet, or not?

Prop

I don't have five thousand dollars to bet on Bobby.

Man

I tell you what... If Bobby wins, he gets five thousand dollars. If I win...I get Bobby. Is it a bet?

Prop

You could buy this kind of a computer for half of that.

Man

I want Bobby...Now, do we have a bet?

Prop

It's your funeral.

Man

No. It's his. (Proprietor fills out a charge slip that the man signs. The man goes to Bobby, stretches, limbers, warms-up, then sits.)
Ready, tin man?

Bobby

Ready, fish.

Man

I told you not to call me that. If you do it again, I'll take a can opener to you. (They play 12-15 moves.)

Bobby

It's mate in two, your game is through. (Rap).

Man

What? You're out of your mind! No way!

Bobby

Rook takes pawn, check. Any move. Queen takes queen, mate.
(Sings – 'My Fair Lady' tune.) I'll get a body in the morning.

Man

Not so fast, you Sony reject. Rook takes pawn check. Pawn takes rook. That loses. Bishop to E6. That's mate. God damn it. It's mate! You win.
(To audience.) Did you ever see anything like this? Losing to this stereo set!

Bobby

You're being witty again.

Man

Shut up! One last game. Fifty thousand dollars.

Bobby

That's a lot of lettuce, sport.

Man

Don't sport me, or I'll take an axe to you!

Prop

We don't have that kind of money to wager.

Man

Twenty-five thousand. (Prop. shakes his head no.)
Fifteen. (Prop. shakes no.)
I tell you what. I'll bet my condo against your business. My house is worth three hundred and fifty thousand.

Prop

Take it easy, mister. That's crazy.

Man

That's not what you said on the other bets.

Prop

Why don't we forget the money you lost and you go home?

Man

Don't patronize me!

Prop

I'm just trying to settle this in a nice way.

Man

Nothing's settled! It's him or me! He'll regret the day he made those smart-ass remarks!

Prop

He didn't mean anything.

Man

He did! He did! He wants to destroy me!

Prop

No, he doesn't. You're getting overwrought.

Man

Overwrought! I'll show you overwrought!
(Man picks up chair and turns to computer. Prop. stops him. Takes away the chair and starts leading him out the door.)

Prop

Now take it easy. Everything'll be alright. There's nothing to worry about.

Man

Stop treating me like a lunatic!

Prop

It's alright...

Man

And stop soothing me!

Prop

Why don't you go home and relax, and tomorrow we'll work everything out

Man

What about our last bet?

Prop

We'll talk about it tomorrow. (Proprietor gently pushes the man out the door. The man pops back in.)

Man

I'll be back.

Prop

I know. (He gently pushed him out again.)
(To Bobby.) Was that really necessary?

Bobby

He wanted to find out who was the better man....
(Sings.) I'll get a body in the morning....

Metrozine Gallery
Gallery Walk
With Mary Ellen Gambutti

■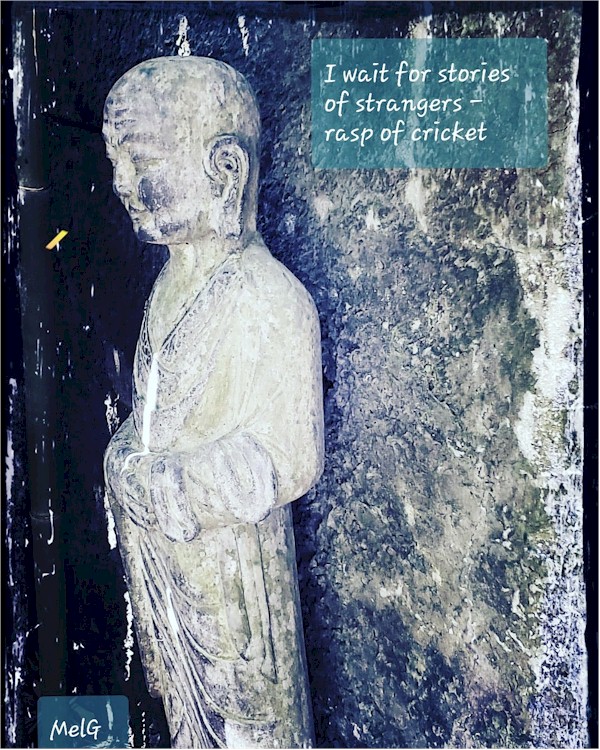 ■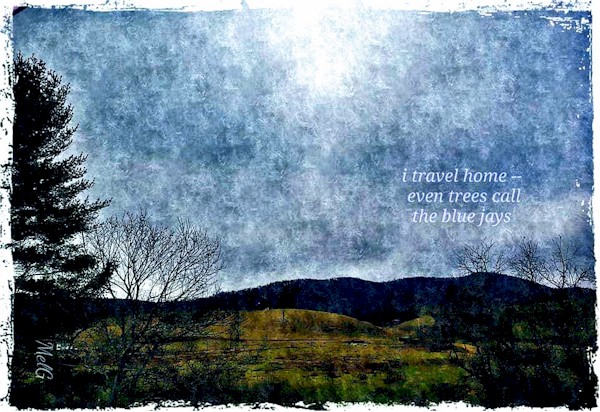 ■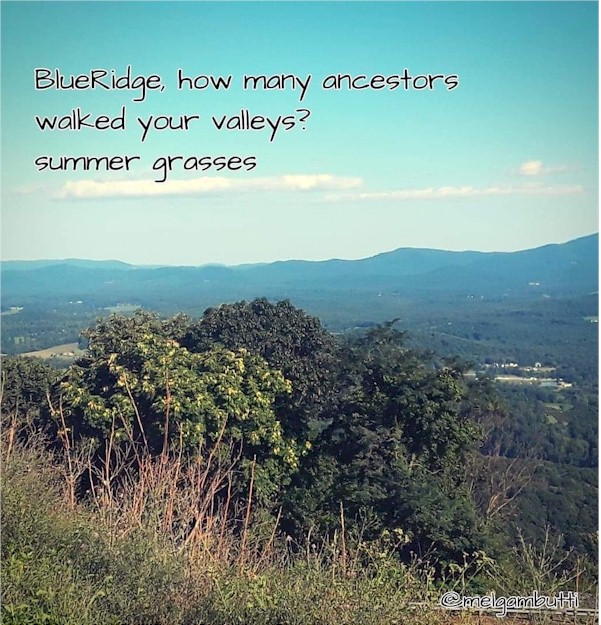 ■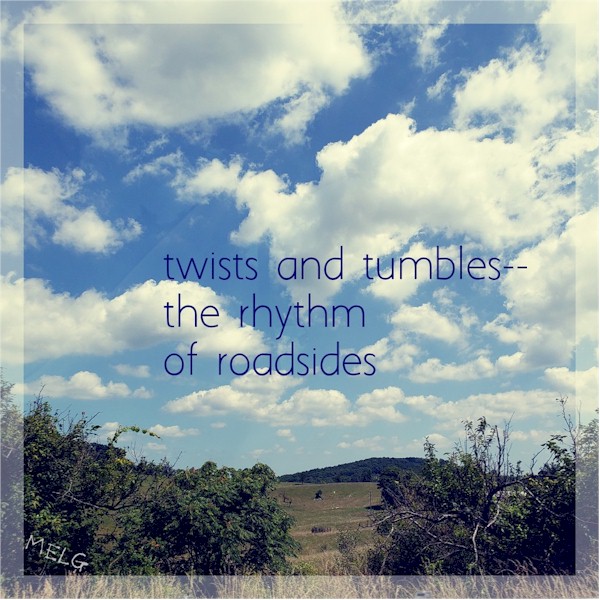 ■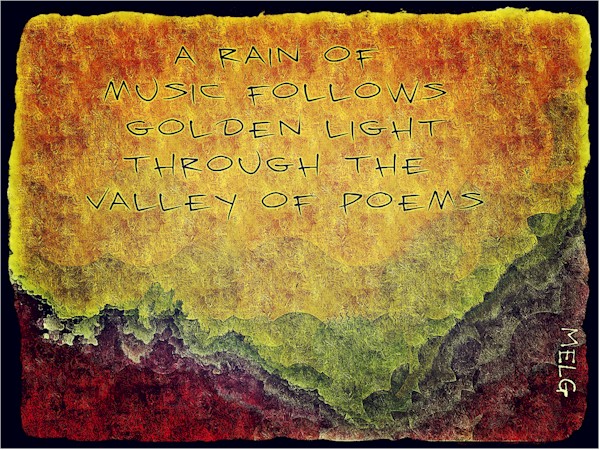 ■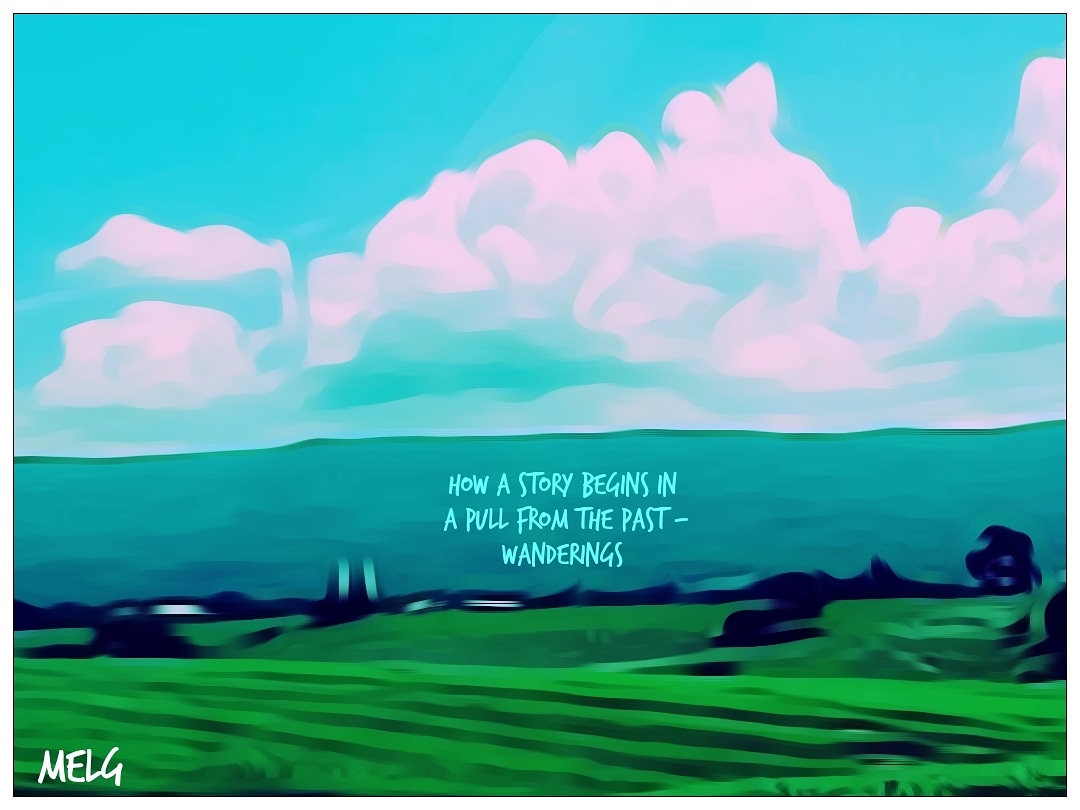 Flash Fiction
Rite of Passage
By Maggie Jones
He has me in a headlock so tight, I can feel my heartbeat in my head. My body knows what to do. Over the last three and a half years, I have learned these moves. "Muscle memory," my sensei calls it. I stomp on his foot, hit him in the groin, elbow him in the stomach, and, when he loosens his grip on my neck, I dance his arm behind him for an arm lock. He taps out and calls, "Good job!" Then he grabs me in a bear hug from behind. I'm exhausted, yet adrenaline pumps through me. Remembering what I've been taught, I get out of his hold.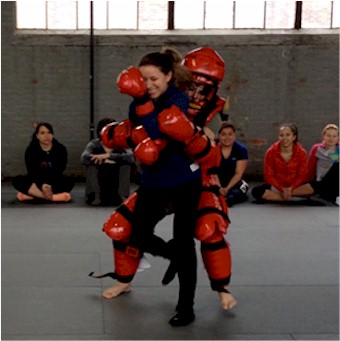 The more-than-three-hour black belt test started out with a physical workout: one hundred push-ups, sit-ups, squats, and burpees. After that, my classmates and I had to show that we know how to fall. One of the black belts picked us up and practically threw us onto a mat, and we landed the way we'd been taught, rolling, and slapping the mat to let out the energy of the fall. Then we partnered up and took turns hitting hand-held punching bags with different hits, driving our partner from one side of the mat to the other while sensei watched our technique. Palm-heel strikes, elbow strikes, knees, front and side kicks. Then a round of sparring. As if all of that wasn't enough, we were then attacked one-on-one, then two-on-one in timed rounds with and without weapons. After this, we would break boards with three strikes of our choice.
I used to get triggered. Sometimes while working alone on a punching bag, other times when I was working with a partner. One night we were supposed to shield ourselves with the blocks we'd learned, using our arms and elbows to protect us from the large pads our partners were wielding. We weren't supposed to fight back, just defend. Before I knew it, I was back in the basement with Deborah and Angela. One was holding my arms while the other was punching me in the chest. I didn't protect myself. I didn't fight back. Before the first punch came, I was made to feel that I deserved it. Otherwise, I would've defended myself. Now I'm learning. This test means more to me than a belt—it's a pledge to myself that I will never allow that to happen again.
I look up and smile at my husband who has his camera poised. I give him a thumbs-up as the test proceeds to the timed attacks. Two strong men, both black belts, are attacking me together. They wear Tony Blauer suits, which are head-to-toe suits that law enforcement uses, to help create a more realistic experience. The suit is snug enough to allow the person to move with agility yet protective enough to shield him from hits, kicks, and punches to all parts of the body, including a helmet with a face shield. This way, we can get the feeling of really hitting our attackers.
I keep both men in front of me as I hop around the mat, never turning my back on them. The shorter one moves in to grab me, and I knee him in the groin and palm-heel strike him in the face until he backs off. The taller one has a police baton. He comes after me. I move closer to him so he can't use his stick to hurt me, a move that used to seem counterintuitive. I secure his hand with the stick, kick him in the stomach, and disarm him.
By this time, the shorter one has recovered. He gets me on the ground before I know it. His strong body is on top of me. I'm caught between his legs. I quickly trap his arm close to my shoulder and lift my hips, flipping him with the strength of my legs until I'm on top. I palm-heel strike him in the face and stand up as quick as I can. Just then, the taller one grabs me from behind in a bear hug like he's going to take me somewhere. I grab his pinky finger and bend it backward until he lets go. I hold onto it and twist his arm around until he's on the ground tapping out. My sensei is on the side of the mat yelling, "Good job! You got this! Only one-minute left!" I smile weakly. My body feels like Jell-O.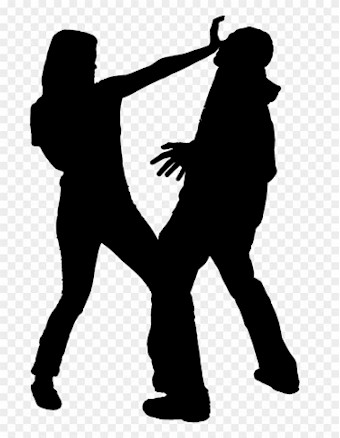 One more minute, I tell my mind as my ears are ringing. I pull down my Gi and straighten my brown belt. I am on high alert as they bring out weapons for the last part of the test. A knife is easier to control than a gun—if you can control the hand that it's in. The gun is trickier. The only way to gain control is if the gun is touching you, but you must be quick since the consequences are much greater. The minute feels like the longest minute of my life. I can hear my husband yelling from the sidelines, "You can do it, babe!" His support means more to me than he'll ever know.
I feel like I'm underwater, moving in slow motion. The gray plastic knife comes down at me from a forty-five-degree angle. I block it by crossing my arms above my head. I secure the hand with the weapon and twist his arm behind his back using my body as leverage. I grab his hand with both of mine and press my thumbs into his palm to manipulate it into a ninety-degree angle, and he can't help but drop the knife.
When the gun comes out, my attacker walks slowly towards me, "let's get out of here." He touches the orange rubber gun to my chest. "I don't want any trouble," I say. Before I know it, I have secured his right hand in my left and moved my body away from the line of fire. At the same time, I side kick him. The thumb is always the weakest link. I roll the gun from his hand toward his thumb and at the same time move his body to the ground. I fake shoot him for effect, then throw the gun away. The room erupts in applause. "Time" is called, and my attackers back off. I breathe a sigh of relief and put my hands on my knees to try and catch my breath.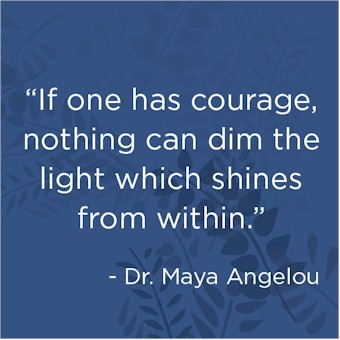 At the end, my teeth are chattering in excitement. I feel like I drank a whole pot of coffee with all the adrenaline coursing through my veins. I'm shaking and almost crying out of exhaustion. We're given the gift of one of our broken boards, signed by the sensei, as a memento. It takes four days for my muscles to recover. The team celebrates by going out to eat the next day. The feeling of empowerment will last for years. I am so proud of myself for having achieved a black belt in self-defense. I will never forget that I am worth protecting.

Flash Fiction
Family Resemblance
By P.A. O'Neil
"They killed the President!" The words were out of your mouth before your mother had closed the front door.
"Wh-what?" she asked turning away from your tear-stained face.
"The President, they killed him."
"Shush! I don't want to talk about it. Now, go to your room."
Startled by her lack of sympathy, you take your six-year-old self to your room to cry some more. That was almost sixty years ago.
You were a latch-key kid, both parents working fulltime, coming home after school by yourself. The front door key hung on a shoelace worn under your uniform blouse. Each afternoon, you'd walk the mile or so from the edge of the burgeoning town into the neighboring hills to the recently built housing developments.
As if waiting for a bus, each morning you would wait for various children to walk past your house, grabbing your lunch and bookbag, leave the comfort of your home to join their procession down the hill. Along the way others, of all ages joined, until it looked like the children of Hamlin Town following an invisible piper. There were many schools along the way, but yours was the farthest and your companions at the finish were the fewest.
It was late November, your birthday month, and the weather had not yet turned cold enough for anything other than your uniform sweater. You came home as usual, dropping your bookbag in the living room before you swung back to place your lunch box on the kitchen counter. Would your mother be surprised to find you remembered to rinse the thermos?
You were hungry that day, so out came the snack saved in the refrigerator before changing your uniform for home clothes. Placing the little plate on the coffee table, you turned on the television to watch your favorite cartoons on the local affiliate station, but they weren't on. It was just a lot of men talking. Reluctantly, you changed the television to your second choice, but it was the same. You flipped channels until you saw a picture of the President and the First Lady.
You liked them. He was handsome and always smiling, just like your daddy, and she was beautiful to watch, though her voice was a little funny. Their children were the same age as you, and you'd seen so many pictures of their family life, they felt like extended family.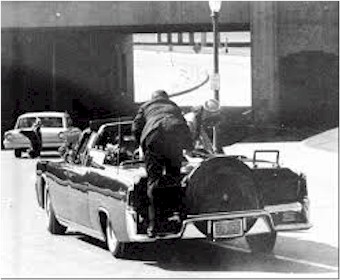 Now, you watched them in some sort of a parade. They were in the backseat of a long black car, waving at all the people, then something happened, and the President fell forward. The people were all running around as the First Lady helped someone laying on the long trunk into the backseat and together, they do their best to shield the injured man with their bodies.
You remember thinking this was all a bad show, so you changed channels again until you come to one with someone you recognize speaking. Yes, this was the channel your father watched every night for the news. You could trust what you saw on this channel as your parents did. It was no use though. This man was saying the same thing as the others, earlier that day someone had killed the President, and you began to cry.
How long was it before you heard your mother's key in the lock? Had you been crying all that time? It didn't matter, like a small chick, all you wanted was the security of being under her wing. In a panic, you ran to the door yelling, "They killed the President!"
Her response was not what you anticipated. Didn't she care? That was one of the many questions you pondered once in your room. Was she angry, because I had forgotten to call her to tell her I was home? That had to be it. It was all a misunderstanding, yet there you remained as you cried yourself to sleep.
In the months before she died, as you sat with her one afternoon, you offered that you understood why she acted as she did that day.
"Really, I don't remember how I acted. Tell me about it."
Her breath was labored, but her brow was smooth, making you feel comfortable enough to speak without causing additional pain.
"I was thinking about it the other day. You snapped at me when I ran to you for comfort after the President died."
She closed her eyes while you spoke.
"You also snapped at me just before your father's funeral. I think, for you, it was a coping method for holding it all together. I get it now. It's not that you didn't care, it's that you cared too much."
She smiled and held your hand.
Today, those memories came rushing back in an instant when a loved one said, "I wish someone would just take him out."
"Don't say that! Don't ever say that," was your reply.
"Well, I mean…"
"No, I won't even discuss it. I have to end the conversation." Your stomach was sick as you hung up the phone. Through a later text, you gave assurance of continued affection, but asked for some time alone. It took sixty years to realize you are more your mother's daughter than you had ever wanted to admit.

Contemporary Haiku
Variations on a Theme
By Tom Bierovic
---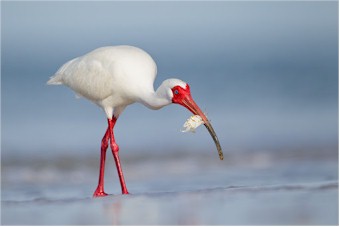 white ibis
fishing
at sunrise
orange beak
orange legs
it all makes
perfect sense

---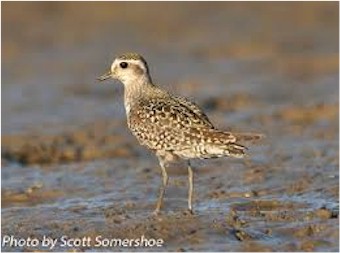 golden plover
wintering in Florida
why not stay

---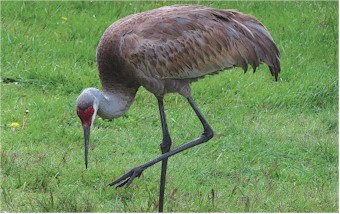 sandhill crane
its knees
bend backwards
its call sounds
inside out

sandhill cranes what are you gossiping about

---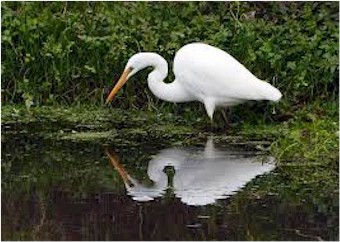 poised to strike
a heron becomes
the ripples

the heron
waiting waiting
flash of yellow

watching the heron until there's only the heron

Fiction
The Dragon's Head
By Mark Kodama
I.
She could hear each step creak as he ascended the stairway and then the lithe shuffle of his footfalls on the hardwood floor as he made his way toward her bedroom. It was pitch black, save for the checkerboard square of light that the full moon cast on her carpet and comforter. His hand would soon be on her bedroom doorknob. Yes, there it was: the click. The door opened and then softly closed with another click.
His footsteps were light on the floor as he approached her bed. He was like a giant anaconda, slithering across the jungle floor, searching for a rabbit to consume in the night. He lifted her thick cotton comforter and slipped into her bed. Her mattress sagged and creaked. Her back was turned to him. She could feel his breath on her neck. He smelled her hair. He smelled of lavender soap from a fresh shower.
He touched her hair and then her face. He kissed the back of her head and then the nape of her alabaster neck. She could feel him pull down her pajama bottom and then her panties. It was like a dragon's head. He then mounted her. Her bed shook and squeaked in time, first quiet and slow and faster and louder. She lay back. The masks of the actors hung from her bedroom wall. When he was done, he grunted. He gently pushed her hair back and kissed her forehead and then quietly left. The door clicked when he left the room.
▀ ▀ ▀
"Checks," came a woman's voice. "Checks."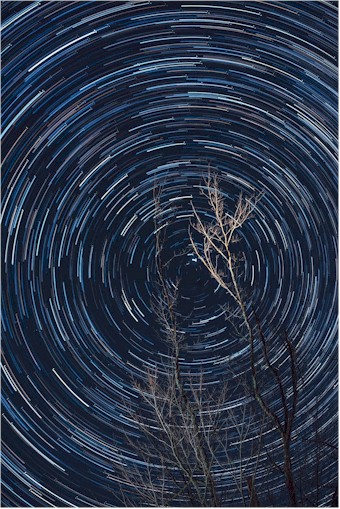 Cassandra awoke with a start. Was it a memory or a dream? Was she insane or was the world insane? She looked at her plain white room in the hospital. Her roommate Beth was sleeping, curled in a fetal position her back toward her.
It was morning; sunlight flooded the room through the barred windows. She could feel the wetness of her panties. She looked at the digital clock on her nightstand. It was already 6:30 a.m.
Her late brother Liam dressed in his military fatigues and wearing gold-rimmed aviator sunglasses looked out from the photograph on the nightstand by her bed. The right top corner of the photograph was dog-eared. Liam died in the fighting in Afghanistan. It seemed like long time ago; it seemed like only yesterday.
Her father and mother were coming to see her in the afternoon today. The nurse would be soon coming with her medications. The pills always made her feel woozy. But at least she did not have to feel things so strongly.
The nurse came in, clipboard and pen in hand.
"Good morning babe," she said. She was a pretty woman about her age 27. She wore a maroon cotton uniform, not a hair out of place. Her makeup was tastefully done. She was half Japanese and half Italian. Her lips were ruby red. They could feel their mutual attraction.
"Good morning," Cassandra said and smiled.
"How are you feeling this morning?" the nurse asked.
"Great. Just great," Cassandra replied, covering the rashes and scars on her wrists with the sleeves of her nightshirt.
"What book are you reading?" the nurse asked, pointing to the bookcase stocked with the classic works of literature.
"Lolita," Cassandra said.
"Wasn't that an old movie?" the nurse asked.
"Yes. I think so," Cassandra said. "A Stanley Kubrick classic, starred and James Mason and Peter Sellers."
"Well, before my time," the nurse said.
"Before my time too," Cassandra replied and laughed. "Do you like to read?"
"When I have time, babe." The nurse smiled, her eyes dancing and then involuntarily turned her head away. She touched her hair and then lightly touched her breasts in a sexy subtle way as if adjusting her bra, too small for her large but firm breasts.
"Well what drugs did you bring me today," Cassandra asked.
"Go ask Alice," the nurse said.
"Well, one pill makes you larger and one makes you small and ones that mother gives you, don't do anything at all," Cassandra said.
"Oh, look your carafe is empty," the nurse said. "I will fill it."
Cassandra looked at the nurse's swinging curved hips as she left the room. "Am I leering?" she asked herself. "I'm allowed. I am crazy."
▀ ▀ ▀
The young Amazon warrior stood at the foot of the mountain by a small waterfall, pouring down from on high in the middle of an oak and cedar forest. She was dressed like a young man in a tunic. She was armed with a small bow and carried a small steel knife. She raised her knife to the sky. Her blond hair fell wildly halfway down her back. She prayed to Hera, queen of the gods and goddesses, for the strength to slay the dragon.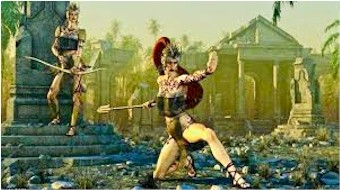 She butchered a lamb by cutting its throat before skinning it and removing its entails. She washed the blood and fat from her hands in the warm water of her metal pot. She then roasted its fat-wrapped thighs on a spit above an orange fire before offering the meat to the gods. The red skinless face of the lamb was frozen in a macabre smile. She then poured wine from her wine skin into the fire as a libation to the gods. The fire crackled, smoked and spit as it greedily consumed the wine.
Hermes appeared as Liam in his olive army fatigues and black beret, his rifle slung on his shoulders. "Greetings. I am Hermes, messenger of the gods" he said in her brother's voice. "I was sent to you by Hera, queen of the gods and goddesses on Olympus."
"I am sorry," she said. "But I do not know who I am. But I am on some kind of mission."
"You are to kill the dragon, cut off its head and bring it back to King Arcaeus."
"Yes, that's right."
"I have brought you armor, and a sword forged by Hephaestus himself that will protect you from harm."
A bronze and leather cuirass, a bronze Corinthian helmet, a metal shield and a pair of bronze greaves lay by the fire inlaid with silver and gold, along with a two-handed Damascus steel sword in a scabbard with a silver and leather handled pommel.
The God Helios drove his chariot upward into the blue cloudless sky toward its zenith. Helios wore a black beret and an M-16 was slung on his back. A hot breeze blew her long dirty blond hair across her helmeted face.
"Victory or death," she could hear the god say to her as he looked down from his chariot pulled by giant winged steeds in the sky.
She turned her head. Hermes was gone.
II.
Cassandra met her father and mother in the lobby through the double locked doors that visitors had to pass through to enter the ward. They seemed much older. Both had a shock of white hair. His perfectly cut hair was short and neat, not a hair out of place. He dressed in a gray suit with a tasteful blue silk tie. He always wore colored suspenders. His expensive new shoes were perfectly shined. His gold watch was tasteful but not ostentatious. He was still handsome and quick. He played tennis every weekend at the club.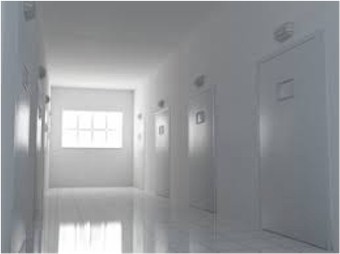 Her hair was perfectly coifed, not a hair out of place. She had her hair cut every month by Fifi. Her pants suit was tasteful and her fingernails immaculate. Her age spots were covered by makeup and crow feet wrinkled when she smiled her frozen plastic smile.
Her father kissed Cassandra on the cheek, followed by her mother.
"How are you Sweetheart," father said.
"Yes, how are you Cassandra," her mother smiled.
"I feel great," Cassandra said.
Her mother took Cassandra's hands in her hands. She subtly pushed Cassandra's long sleeves partly back so she could see the fresh scars on her wrist.
"You look great," father said. He was carrying a bag of books. He smiled warmly but his eyes were sad. He smelled like lavender soap.
"Oh, I bought you these," he said.
"Oh, my books," Cassandra said and smiled. She handed him a half dozen books. Here are the ones I finished. I loved Crime and Punishment. In Cold Blood was great too. Ulysses was a little slow.
"Yes," father said. "And some new ones too. There is a new translation of the Iliad and I brought your Loeb classic in the ancient Greek. I just finished Prescott's History of the Conquest of Mexico. I thought you would enjoy it."
"What are you reading now, Dad?"
"Well, now that I am retired from the bench, I thought I would read Kant's Critique of Pure Reason."
"Punishing!" Miriam said.
They both laughed and then realized at the same time mother was standing there. There was an awkward silence.
"Well, I was reading all about President Trump in People Magazine," mother said.
"Oh yes," father said. "What did the article say?"
"I don't quite remember," mother said. "Now that I think about it, I think the article was about Ivanka Trump."
"Oh," Cassandra said.
"Are they feeding you well?" father said.
"Well, they should," mother said. "Our insurance only covers 80 percent of the costs here. You have been here for almost three months. After that we must pay for it ourselves."
"You must eat well, honey," father said. He hugged her close and kissed her forehead, tenderly pushing her hair back. "Take your time. Take all the time you need to get better. You look much better."
Her mother was silent, a little angry.
"Get better," he said, his voice cracking, his eyes red with tears. He brushed her hair back from her face with both hands. "I love you."
She bent her head down. Tears flowed from her eyes.
"Come home soon," he said softly.
▀ ▀ ▀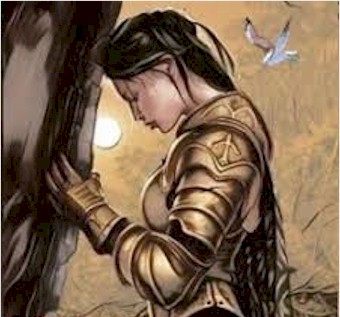 She ascended the dirt trail up the mountain. In some places, the edge of the road dropped 500 feet into the gorge below. A cold wind blew through the pine forest. The sky was blue but the gray treeless mountaintop that jutted upwards into the sky was shrouded in clouds. Gone were the oaks and cedars.
The north wind chilled to the bone and the air became thin, making it hard to breathe. Her armor, sword and shield weighed heavy on her body. Her legs ached.
She stopped to rest. She was halfway up the mountain. Suddenly, Helios called to her.
"Cassandra, why so tired? You have tasks to complete and prophecies to fulfill. Get up."
Cassandra immediately stood up. With renewed energy, she continued up the mountain.
III.
When they brought her dinner in on a white tray, it was beef stew, with a salad, roll and apple juice. It was not the beef Bourguignon that she and her dad made but it would more than do. Cassandra did not realize how hungry she was. It tasted like the cafeteria food at the university which she liked.
After dinner she settled down by reading Narbokov. Lolita. She could hear the music in her mind from the movie. After she was done with the book, she could scratch it off her reading list.
▀ ▀ ▀
"So tell me about that," the therapist said to Cassandra. He rocked back in his cherry red leather swivel chair, putting his thick stubby fingers together in a pyramid. Stephen was nice enough, about 35 years old. He had a black mustache and receding hairline and black beady eyes that stared through his thick cloudy glasses.
The problem with psychiatrists and therapists is that many seemed more screwed up than their patients. You wonder if they go into psychiatry as a way to better understand their own problems. How can you be honest with someone like that? You sometimes wonder whether you could just switch places with them.
"Tell me about what?" Cassandra asked.
"What you just said."
"What did I say?"
"About your dream."
"Oh, yes. You mean about Mount Olympus?"
"Yes."
"It is just dream."
"Well, it may be important."
"It was just a dream."
"I think it is saying something."
"In the dream, I am a warrior on a quest."
"Yes."
"I am climbing a mountain . . . To slay a dragon."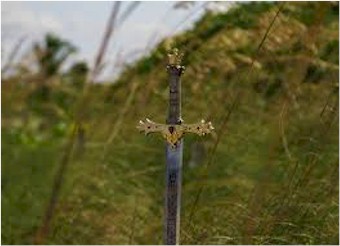 "Go on."
"It is just a silly dream."
"I'm trying to help you. You have to be honest with me for me to help you."
"I'm trying to be honest with you," Cassandra said, disingenuously. How can she be honest when she cannot tell what is true? Isn't that why she is there? she thought. What if she were honest? Then they might really think she is crazy. Or worse yet, believe her.
"There are gods and goddesses. My dead brother appears to me in the form of Hermes."
"Yes."
"And he urges to me to climb the mountain to kill the dragon."
"Do you kill the dragon?"
"I don't know. I haven't gotten to that part yet."
"Okay," Stephen said. "I think that's enough for today."
"When are they going to let me out of here?"
"When you are ready."
"I'm ready now."
"You are not ready yet," he said. "There is much you have not told me."
"I am trying."
"I know you are."
▀ ▀ ▀
The cave was at the bottom of a shear rock face, surrounded by a jumble of gray Cyclopean rocks. A small pine tree resembling a bonsai plant marked its entrance. Her heart raced but she felt no fear.
"Thank you, Hera, queen mother, for your trust in me," Cassandra said, raising her sword to the sky, the curved patterns of the blade flashing in the sunlight. "Queen goddess. I am here. I shall to conquer or die."
She could hear the deep voice of the goddess. "Courage, my darling. Courage."
Cassandra lit a torch and she charged into the mouth of the cave carrying her drawn sword in both hands and her shield strapped to her back. She ran down the long snake-like entrance, deeper and deeper into the cave until the cave opened into a large vault.
Water dripped from the giant jagged stalactites resembling phalanx of spears that hung down from the ceiling into a large steaming underground pond
Suddenly, from the still waters of the pond, a large green dragon emerged. Its face was like a crocodile with razor sharp curved with teeth. The dragon knocked the sword from Cassandra's hands and ripped her silver and bronze cuirass from body, exposing her naked breasts.
Cassandra tried to grab her sword which was just out of her reach. The dragon grabbed her right ankle with his slimy mouth and began to drag Cassandra helplessly towards him.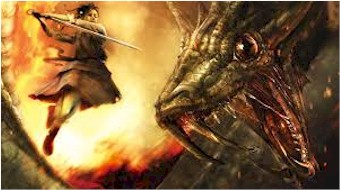 The dragon's saliva dripped from its mouth onto Cassandra's pale white leg. The saliva burned like acid, blistering Cassandra's skin. The dragon's teeth cut her leg tearing into her flesh and making them bleed.
The dragon was too strong and began to pull the naked Cassandra toward the steaming pond. As he pulled her toward the pond, she smelled lavender soap.
She began repeatedly hitting the dragon on his head with her shield, every time striking him harder. Finally, she could hear his skull crack.
The dragon loosened his grip on her ankle and finally his jaw turned slack. He began breathing heavily. His eyes were glassy.
Cassandra ran and grabbed her Damascus steel sword with both hands. Blood gushed from her calves. With a mighty swing, she cut off his head. Blood spurted from his decapitated body. Cassandra held his head up in triumph.
▀ ▀ ▀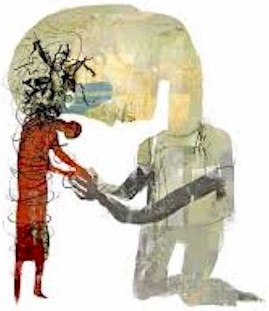 After six months, the hospital released Cassandra to her parents' custody. Her dad and mom picked her up in his new Tesla. Cassandra sat in front with her father on the way home and mother sat in back.
Cassandra and her father talked about Homer and the heroes of Greece while her mother read her People Magazine.

Flash Fiction
Rules in Heaven
By Thomas Elson


Flash Fiction
On Her Third Step
By Thomas Elson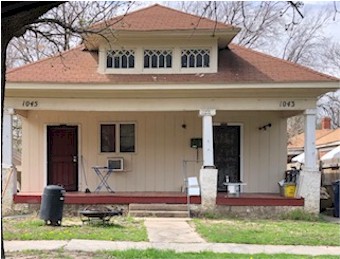 A right turn onto Seneca Street, left at McCormack, past the high school - where it began with adjoining lockers – then up the small hill, over the railroad tracks, the stop light, over the Arkansas River, look to the right and see the spillway, then more railroad tracks, past her best friend's house, two more blocks east, turn left, go north for a block and a half, then on his left the numbers, 1045-1043 – the street numbers of the duplex. Only three steps to the shared porch. The same route he travelled years earlier, first hesitantly, then eagerly, then greedily.
The street was both lush and bleak, scattered with vehicles without bumpers, fenders, doors, radio antennas, wheels, or hubcaps. Vehicles in streets, front yards, elevated or embedded a few absent tires, others absent axles. Vehicles once for use now for cannibalization or neglect.
▀ ▀ ▀
That night was terminal. He didn't know it yet; but more likely than not, she had an inclination.
He would see her only one more time. He didn't know that either.
On the third step of a shared porch they had rested on, stood against, and lingered near for years - her widowed mother's half a house. The kind of slap-dash housing folks lived in back then.
Housing where wind could be heard through the windows. The wind a low whine, sometimes mellow, more often shrill and mean, but always demanding. Winds that delivered consecutive blows with such force that memories long tucked away were shaken loose. Houses modeled, remodeled over generations until they stood as they were in the beginning with pitted white siding, unpainted porches, two halves with two doors and two windows facing the street. A visitor could be shot gunned through the door, into the living room, kitchen, past bathroom, then into bedroom and out the back door without being invited inside.
Their lives charted by a single path dictated by the times – the early sixties which means the fifties, but learned from the forties, and dictated during the thirties. Her grandmother's life sewn into her seams. His grandfathers' life a trumpet that would lead him his entire life. Both carried expectations as blinders. The only issues were the peripheral vision allowed with those blinders, and how long until they were yanked off.
Her world remained as small as her house – one classroom in one city with one spouse and one set of friends. From house to high school to college to classroom – a life within eight city blocks.
His world had multiple roads – graveled, paved. Rutted. Smooth. Mapped. Unknown - until, years later, after paneled offices near the Potomac, the Mississippi, and San Francisco Bay, he was on the same street in the same town where he had begun.
He, in his bespoke suit, had seen a current picture of her – a weighty, dyed or maybe wigged blond of a color not found in nature, her posture boisterous, ankles and wrists thick wearing a checkboard of orange and white that emphasized everything wrong. He preferred the black and white version when she was erect with dark hair framing an eager face, eyes focused on the world in front of her.
▀ ▀ ▀
That night on the left side of the third step of the duplex was their last time whose first time began with adjoining lockers and the door she opened that struck his head as he turned to look at her. No words, just mutterings. No actual plan, they just were drawn together, just yes and yes, then yes.
There were no smiles on that terminal night only attempts to recapture better times. Times of firsts, of anticipations, feelings, touches. One year, two years, three years. The school years, Christmas vacations, summer jobs, the nights, dates, parties, movies, games, arguments, parking – airport, drive-ins – parents' cars, permissions, acceptance, then graduation. Then, their final night as a couple. Three years. In all that time he was never invited inside.
For years he carried her in that empty spot. They were broken by something forgotten, never understood, mendable had they a few more years of maturity and experience.
On that night, when futility hit, he rose from the step, kissed her, held her, kissed both cheeks, kissed her again, took her hand, and did not let go until distance and time released her for him.

Prose Poem
Slice of Life: For the First Time
By Prisoner #53.3.8.5.7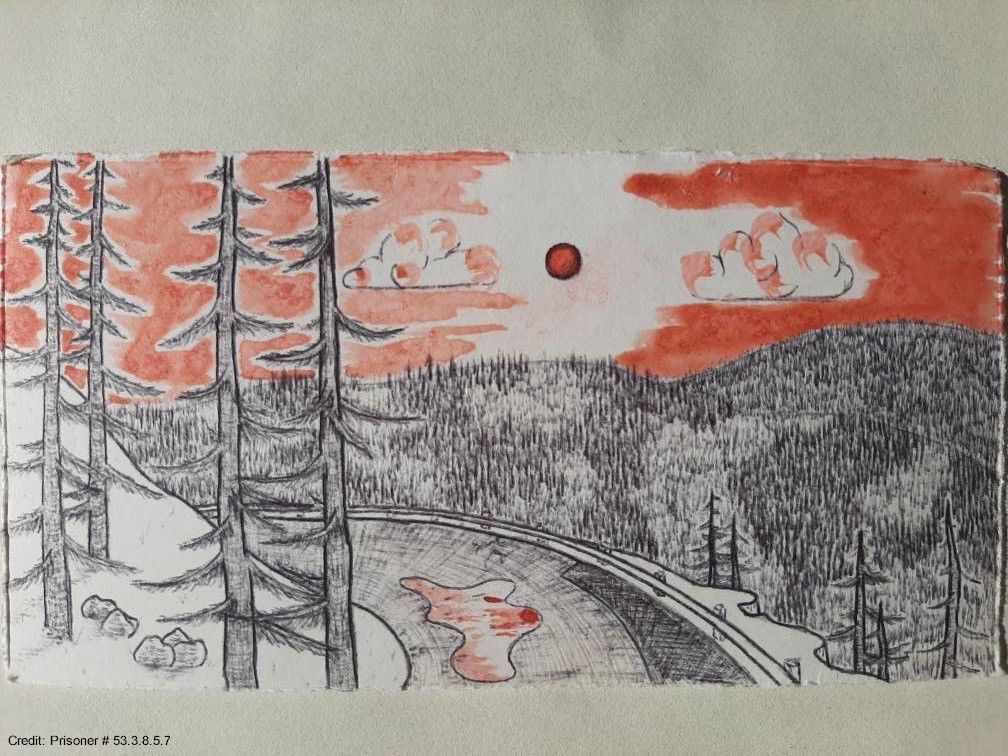 Today I sit for the first time
relaxed and calm.
The first time I breath
fresh air and
look out on the world
appreciating the warmth
Of the sun.
Today the bars
and walls and fences
and razor wire fell away
and even if was for just a moment
on the cold cement,
it was bliss.
It was peace.
It was strange and
It was refreshing
Because for a long time
I wore a mask
And hid behind a façade.
Today I acknowledge
The wanderlust in my veins
No matter how heavy
it makes the chains
that hold me feel.

From the Editor's Desk
Spotlight On: Our Racist Land of Liberty
By Basha Krasnoff
In 2017 when NFL player Colin Kaepernick began to "take a knee" during the playing of the National Anthem, the President of the California Chapter of the NAACP, supported this action stating, "'The Star-Spangled Banner' is racist; it doesn't represent our community, and it's anti-Black."
Alice A. Huffman further argued that the lyrics celebrated the deaths of Black slaves in their fight for freedom in the War of 1812. Historians have argued for years about the meaning of one particular couplet in the third stanza, with some suggesting that the line refers to its author, Francis Scott Key, rejoicing in the massacre of former slaves who took the side of the British. The couplet in question is highlighted in bold type:
"And where is that band who so vauntingly swore,
That the havoc of war and the battle's confusion
A home and a Country should leave us no more?
Their blood has wash'd out their foul footstep's pollution.
No refuge could save the hireling and slave
From the terror of flight or the gloom of the grave,
And the star-spangled banner in triumph doth wave
O'er the land of the free and the home of the brave."
Beatrice Dupuy further pointed out that Francis Scott Key opposed abolition, owned slaves and once remarked that Blacks were "a distinct and inferior race of people, which all experience proves to be the greatest evil that afflicts a community."
How can we possibly accept these lyrics to represent us all?
The Movement from Racist to Nonracist to Antiracist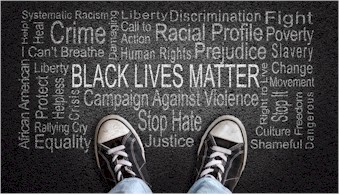 Where do Americans stand on structural racism in the Summer of 2020? Howard Zinn warned us that "to be neutral or passive in this situation, is to collaborate with all that is going on." He taught that meaningful political change happens not just when Black and Brown people take a stand against racism, but when the wider society moves beyond passively proclaiming to be "nonracist" to actively engaging in an "antiracist" movement.
During the Civil Rights Movement of the 1960s, students in Northern universities expressed sympathy with the plight of Black Southerners, yet they remained passive. To overcome their inertia, the Student Nonviolent Coordinating Committee (SNCC) organized "Feedom Buses" to bring them down to the South to act as observers. Witnessing Whites lynching Black citizens, attack dogs mauling protesters, fire hoses dislocating bones – transformed them into active anti-racists. Enraged, these students informed their parents of what they witnessed – and these often-passive opponents of the "riotous" civil rights protesters, upon hearing firsthand accounts of the injustices, aligned with the cause. The realignment of these thousands of parents in the North shifted the entire political climate in relation to the demands of the Southern Freedom movements. It is only through direct and active participation in the movement and reckoning with the fact that racism is systemic that a nonracist person transforms into an antiracist person.
The death of George Floyd, the most recent unarmed Black citizen murdered by police, has evoked statements of solidarity from politicians, corporations and even police departments around the country. But Angela Davis tells us that "there is an unbroken line of police violence against Black citizens in the U.S. going all the way back to the days of slavery."
Naomi Klein tells us that the construct "Race" is a trace of history that can be followed back through many hundreds of years and was invented to facilitate colonial conquests, enslavement and exploitative labor regimes – all engines of capitalism. Today, the political-economic structure of the global economy rests on the availability of a cheap, informal labor force, imperialist warfare, "extractivism," the mass incarceration of racialized people and massive inequalities in educational attainment, wages, housing and healthcare. Ending racism would require transforming the global political-economic structure. It would mean paying workers fair wages across supply chains and ending the ethnicity pay gap – all of which fly in the face of the primary corporate objective of profit.
So how can we move from a passive non-racism to an active anti-racism society? It requires mass-participation in the workplace, the street, and the community. Beyond protests, donations, social media posts, and difficult conversations, it requires that the many day-to-day issues underscored by racism be addressed and tackled head on. To create substantive change, we must transform what has become a huge political moment into a huge political movement. Working together we must all – Black, Brown, White - become anti-racist activists outside of state agencies (which are some of the principal purveyors of systemic racism) to meet the needs of Black and Brown communities. It means fighting for improved healthcare provisions and protective work equipment for the marginalized members of our workforce and fighting against the sweeping range of new policing powers being disproportionately yielded against working-class racialized communities. And, we must give voice to the grief and anger that generations of Black Americans have suffered at the hands of the criminal justice system.
Unconscionable examples of racism over the last weeks and months have come at the same time that America's Communities of Color have been hit hardest by the coronavirus and catastrophic job losses. There is a perfect storm devastating Black Americans. Young and old, Black and White, families and friends must continue to join together in small towns and big cities across the country to demand change.
"Whose Country Tis of Thee?"
When we stand to sing "America," we must openly acknowledge how clearly at odds the idealism of the lyrics has been with the reality of being Black in America. But, if we follow the lyrics through to the third verse, we can't help but posit that those lyrics might be poignantly foreshadowing today's articulate and insistent nonviolent movement toward liberty and justice for all.
"…Let music swell the breeze,
And ring from all the trees
Sweet freedom's song;
Let mortal tongues awake;
Let all that breathe partake;
Let rocks their silence break,
The sound prolong…"
A worldwide movement for dramatic social, economic and political change is underway. Let freedom ring!

Point of View
Ironies in the Aftermath
By Toni Merflag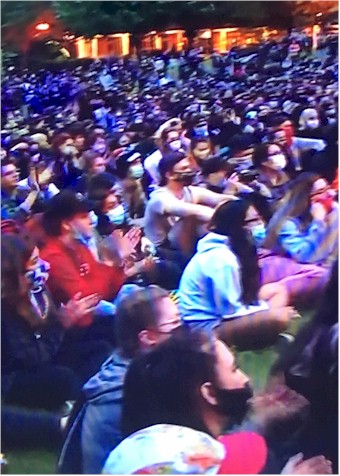 31 May 2020: It struck me this morning what a shallow person I must be. Was watching the news from Minneapolis in the aftermath of George Floyd's murder. People protesting, rioting, running amok, full of grief and anger and sorrow and a raging impulse for some kind of payback for the police and the system.
Some were shouting and crying; many were intent on demonstrating that they are not subjects and slaves; they are regular normal people worthy of the respect and equality that the Constitution promises to all citizens regardless of station or skin color. In the depth and grip of their emotions, they were looting, damaging and destroying property and businesses. I was watching all this and feeling angry and sad and helpless to do anything, not ABOUT them, but FOR them. It was a punch in the gut, because I was feeling such sympathy and frustration.
And then the screen showed a bunch of young men, some of them teens, maybe a dozen altogether, angry as hell and determined not to walk away passively from their anger and frustration. They were destroying a police cruiser, breaking the windows, denting every bit of metal they could reach, slashing the tires. And I started laughing, because every single one of them was wearing a coronavirus face mask.
A criminal act for sure, but I could not blame them. No sane person who understands the history and treatment borne by black people in the United States during the past 400 years could. Obviously, it was smarter to attack that car, then drift away to some other neighborhood, than to attack the real source of their anger, police officers in general and more specifically, just four Minneapolis officers.
I felt guilty for laughing in the face of all that grief, anger, and pent up frustration, but I could not stop laughing even with the sad tears running down my cheeks.

CONTRIBUTORS
Summer 2020

Margo Adler
comes from a long tradition of wisdom storytelling that shares insight and reveals God's presence in our lives to foster our courage and give us the strength to persevere. She began writing poetry and stories as a way of finding solace and joy during a childhood stricken with polio, death in the family, loss, and poverty. As an occupational therapist she has used storytelling as a therapeutic tool. Her work, study and travels have taken her from Alaska, across America through Europe, Greece and Israel. She has worked with people of many cultures, professions, gifts and disabilities. Her experience with the strength, courage and resourcefulness of American farm women became a strong inspiration for her life and work. She is currently writing memoirs of her world travels (of which this piece is an excerpt), as well as children's stories, and the story of her animal rescue farm. She resides in the Pacific Northwest.
Alfredo Salvatore Arcilesi
has spent a decade penning award-winning short- and feature-length screenplays, while working as a full-time artisan baker. His prose work explores the trials and tribulations of ordinary people embedded in ordinary and extraordinary environments and conflicts. His short stories have appeared in over 40 literary journals worldwide and was a finalist in the Blood Orange Review Literary Contest. In addition to several short pieces, he is currently working on his debut novel. He lives in Toronto, Ontario Canada.
Gary Beck
is a poet, novelist, and playwright who has spent his adult life as a theater director. His original plays and translations of Moliere, Aristophanes and Sophocles have been produced Off Broadway. Feast or Famine and other one act-plays has been published by Wordcatcher Publishing. His novels include Flawed Connections (Black Rose Writing), Call to Valor and Crumbling Ramparts (Gnome on Pig Productions), Sudden Conflicts (Lillicat Publishers). Acts of Defiance and Flare Up (Wordcatcher Publishing). He has 14 published chapbooks, 18 collections of poetry, and four short story collections including include A Glimpse of Youth (Sweatshoppe Publications), Now I Accuse and other stories (Winter Goose Publishing) and Dogs Don't Send Flowers and other stories (Wordcatcher Publishing). The Republic of Dreams and other essays ( Gnome on Pig Productions). The Big Match and other one act plays (Wordcatcher Publishing). Collected Plays of Gary Beck Volume 1 (Cyberwity Publishing). Forthcoming: Plays of Aristophanes translated, then directed by Gary Beck). His play, "Funeral Strains" appeared in Portland Metrozine (Fall 2019). Beck lives in New York City and may be contacted at: garycbeck@yahoo.com, www.garycbeck.com, or www.facebook.com/AuthorGaryBeck
Tom Bierovic
is a widely published and award-winning poet in the haiku, senryu, and tanka forms. His work has appeared most recently (2019-20) in The Bamboo Hut, Blithe Spirit, Haiku Dialogue, Haiku Universe, hedgerow, Luca's Lily Pad, Mainichi, Modern Haiku, One Sentence Poems, Presence, tinywords, Under the Basho, and Wales Haiku Journal. Recent awards (2020) include two selections in the Golden Haiku Contest (Washington, D.C.) and Runner-up and Honorable Mention in the British Haiku Society's annual awards. His books "Blink of a Duck's Eye"and "Paper Boats" are available at Amazon.com. In his free time, Tom enjoys reading, playing backgammon, playing Native American flutes and Irish whistles, and drumming on bongos and djembe. Tom and his wife Laurie make their home in DeLand, Florida.
Charles Braddy
has been writing and publishing poetry for 30 years. He lived the middle-class dream as a child growing up in the Rocky Mountains and enjoyed extensive travel with the US Air Force where he was stationed in the UK. Stimulated by his experience of the English countryside, the air, the food, and the Romantic poets and painters, he began to dream about lands of myths and legends. He expresses his appreciation for the rich possibilities of each life's journey through the spirit of his Art. Charles poems have been published in Long Road Press, Poetry Quarterly, Aspen Daily News, Aspen Poets Society, and some other smaller publications. His paintings have been exhibited throughout Colorado and are held in private collections. His work is available at CharlesBraddyArt.wordpress.com and may be viewed on Facebook, Instagram, and Twitter.
Wesley Ann Cook
has been inclined to the arts from a very young age and has explored and practiced a wide range of mediums for personal expression. Music, theater, painting, graphics, landscaping, even teaching have helped feed her broad range of curiosities. Currently her heart is captivated by wood constructions, book binding and writing. All require vision, exactness and constant editing. She lives in Portland Oregon, with her husband and two endearing cats and finds that "the air itself breathes an arresting aesthetic of wonderment, which helps sustain her artistic endeavors."
Thomas Elson
has published short stories, poetry, and flash fiction in numerous venues such as Calliope, Pinyon, Lunaris, New Ulster, Lampeter, Selkie, Pennsylvania Literary Journal, and Adelaide Literary Magazine. His work appeared in Portland Metrozine (Fall 2019). He divides his time between Northern California and Western Kansas
Mary Ellen Gambutti
is a writer of the Japanese poetic forms of Haibun, Haiga, Haiku, Sedoka, and Zuihitzu, lyrical poetry and creative nonfiction in the forms of memoir, slice of life, flash, and vignette. She is a retired horticulturalist and landscape gardener, an adult adoptee in reunion, Air Force daughter, and a hemorrhagic stroke survivor. Her book Permanent Home: A Memoir was published in December 2018 and is available on Amazon at https://www.amazon.com/Permanent-Home-Mary-Ellen-Gambutti/dp/1941066321. Her work has appeared in Portland Metrozine (Summer 2020, Summer 2019 and Fall 2019). She lives in Sarasota, Florida.
F.I. Goldhaber
uses words to capture people, places, and politics with a photographer's eye and a poet's soul. As a reporter, editor, business writer, and marketing communications consultant, they produced news stories, feature articles, editorial columns, and reviews for newspapers, corporations, governments, and non-profits in five states. Now paper, electronic, and audio magazines, books, newspapers, calendars, broadsides, and street signs display their poetry, fiction, and essays. More than 160 of their poems appear in sixty plus publications, including four collections. http://www.goldhaber.net/. Her poetry appears in Portland Metrozine (Summer 2019 and Fall 2019).
Mark Kodama
is a trial attorney and former newspaper reporter. He is currently working on "Las Vegas Tales," a work of philosophy, sugar-coated with meter and rhyme and told through stories. More than 150 of his short stories, poems and essays have been published in anthologies, including those published by Black Hare Press, Clarendon Publishing House, Eerie River Publishing, Escaped Ink Press and Devil's Party Press. His story, "Executioner's Wife" appeared in Portland Metrozine (Spring 2020). Mark lives in Washington, D.C. with his wife and two sons.
Basha Krasnoff
is the Editor of the Portland Metrozine. She is an accomplished creative writer of poetry, short stories, and nonfiction. Basha's professional career spans academic, expository, journalistic, narrative, research, and technical writing. She has written museum and gallery catalogues for visual artists and liner notes for musician albums. She has been the editor of six publications including the original print version of this literary journal. She lives and works in Portland, Oregon.
Toni Merflag
is an astute observer of life in our times and has many opinions on many subjects. She has an eye for anything out of kilter and an ear for the slightest dissonance. If you ask her what she thinks, she will tell you. Toni admits to having "dabbled' in writing for most of her life but confides that she has shredded much of it. She knows that exercise is good for her, but don't try to suggest she do it. What she loves are cats and tea, classical music and golden oldies, a good read, and a well-turned phrase. Toni was born and has lived in Portland, Oregon for most of her life.
P.A. O'Neil
has been writing professionally for four years. Her stories have been featured in multiple anthologies, as well as online journals and magazines from several continents. She resides in Olympia, Washington. For links to books which feature her stories, as well as her own book Witness Testimony and Other Tales, look under the Photo sections of her Facebook author page: P.A. O'Neil, Storyteller, or visit her Amazon author page: P.A. O'Neil.
Prisoner # 53.3.8.5.7
is a pseudonym for a young writer who is currently incarcerated. While serving his sentence, he shares insights into his everyday life as a prisoner refracted through his lens of intelligence, talent, and love. For these purposes, and because he is blessed with an indominable spirit, he identifies himself with this sequence of his lucky numbers. He is confined in Oregon.

SUBMISSIONS
Summer 2020

We Welcome Submissions!
We welcome submissions from creative writers, artists, activists, and deep-thinkers around the world. The Portland Metrozine community encourages the avant-garde, the experimental, and the arcane in fiction, non-fiction, and poetry. We also welcome submissions of visual artwork, including drawings, photographs, and facsimiles of paintings. We especially appreciate manuscripts and poems that are accompanied by thematic images.
Buoyed by the thriving literary community of Portland, Oregon, we reach out to the global community to inspire, encourage and broadcast creative expression. Wherever you are on planet Earth, we welcome you to share your vision, your voice, and your point of view!
The Portland Metrozine is published quarterly (Spring, Summer, Fall, and Winter), but submissions are accepted at any time. We accept simultaneous submissions but please let us know if your work is accepted elsewhere. We will consider previously published work with a citation for the original publisher and date. You can learn more about our community via Facebook and Duotrope.
Submission Guidelines
Send an email message to the Editor at:
1. In the body of your email, please include:
■ Title of your submission
■ A brief description of your work
■ Genre (for example: fiction, non-fiction, etc.)
■ Attribution for all images submitted
■ A brief biographical sketch of yourself (be sure to mention where you live)
2. For document files, use MS Word (.doc, or .docx), or ASCII text (.txt). Attach your document and/or image file(s) according to these guidelines:
Fiction:

1 story per submission (max: 4K words)

■ double-spaced manuscript ■ one-inch margins

■ paginated
Creative Non-fiction: 1 essay per submission (max: 4K words) ■ double-spaced manuscript ■ one-inch margins ■ paginated
Flash Fiction / Flash Non-fiction: 1-4 pieces per submission (max: 1K words each) ■ double-spaced manuscript ■ one-inch margins ■ paginated
Poetry: 1-5 poems per submission (max: 50 single-spaced lines each). Use Adobe Acrobat (.pdf) file for fixed poetry layouts.
Images: 1-6 images per submission (max width: 1200 pixels each) Use .jpg , .gif, .png, or .mic file formats.


Selection Process
We strive for excellence. The Editor reads all submissions that follow our guidelines. Selected authors for each issue are notified about two weeks before publication when they can preview their work as it is intended to be published. We do not charge reading or submission fees.
Currently, the Portland Metrozine is published quarterly, The large number of submissions makes our process very competitive. Sometimes, we must pass on high-quality work that simply won't fit our current issue. Always keep writing or creating artwork and keep sharing your work—always with passion!.
Terms of Publication
By accepting publication, the author grants Portland Metrozine one-time publishing rights at the portlandmetrozine.com website. The author retains copyright and may publish the submission elsewhere after it appears in Portland Metrozine.
The author gives Portland Metrozine the right to publish the work at portlandmetrozine.com, to archive it indefinitely as part of the issue in which it appeared, and to include it in future anthologized print or electronic editions of Portland Metrozine (re-featured, archived work does not constitute a new publication).
If you submit work to another publisher after it is published in the Portland Metrozine, we ask that you give a "First published in Portland Metrozine, <issue date>" credit, which we honor with other publications. 

KUDOS Gallery
Summer 2020