Portland Metrozine | Spring 2019
.
Tapestry of Fortunes
By Shavaun Scott
Creative Non-Fiction: Essay
Scott weaves parallel stories of two powerfully magical influences on her life as a child while looking back at their impact through the lens of her rational adult understanding.
A Haiga
By Mary Ellen Gambutti
Poetry: Haiga Form
Gambutti's simple image and insight about being alone in nature.
Boom Boom Boom Boom Hey Hey
By Jamie Owens
Creative Non-Fiction: Literary Memoir
Carefully laid plans to improve the plot for her vegetable garden involved an old growth stump and 43 sticks of dynamite.
Paintings
By Peggy Collins
Paintings: Abstract Expression
Collins offers images of two of her beautiful abstract paintings.
Becoming
By Nastashia Minto
Poetry
Minto explores her identity and her infinite potential in light of the exceptional role models she admires and emulates.
In the Dark
By Lisa Todd
Fiction: Short Story
Todd shares a tale of menacing creatures looming in the darkness of the predawn hours as a group of climbers begin their ascent up a mountain pass.
Arlington
By Mary Ellen Gambutti
Poetry: Haibun Form
Gambutti combines prose and poetry to honor the soldier who had fallen from her life years before his death.
A Child's Prayer
By Maggie Jones
Creative Non-Fiction: Vignette
Jones' seven-year-old self, fervently prays to God to forgive her sins, while seeking reassurance from her Dad that she will be saved.
Suite of Poems
By Guy Farmer
Poetry
Farmer explores major issues and dilemmas of our post-modern human condition using deeply evocative and minimalist language.
The Grid Falls
By Joseph Corrado
Science Fiction: Zeus Alone (chapter 1)
What becomes of privacy and personhood in the worlds of the 22nd century?.
Spotlight: Youth Incarceration in the U.S.
By Basha Krasnoff
Editor's Desk
Compilation of data collected by researchers on the reality of youth incarceration in the U.S.
Slice of Life: When Normal Becomes Extraordinary
By Prisoner # 53.3.8.5.7
Creative Non-Fiction: Vignette
In the rigidly controlled world of a life in prison, one moment of normal becomes extraordinary for this incarcerated youth.
---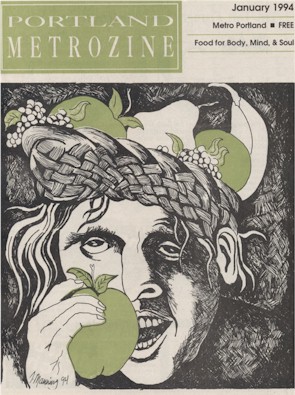 In the Beginning...
. . . the first online edition of the Portland Metrozine — an online literary journal that showcases the creative work of writers, artists, and deep thinkers in our community.
Originally a print publication called Poor Joe's Guide, this historic "metrozine" was launched during the economic and social upheaval of the early 1990s to promote positive and constructive voices within the greater Portland metropolitan area. Debuting in 1991, the print publication was designed, developed, published, and distributed by a tightly-knit community of artists and writers. Because of its ever-evolving literary content, original artwork, and positive community vision, the Guide rapidly evolved into the literary journal, Portland Metrozine.
Now in 2019, original publisher, Joseph Corrado, and editor, Basha Krasnoff, have returned to the helm to resume the Metrozine's mission as an online literary journal. In keeping with its legacy and with renewed vigor, the Metrozine eagerly anticipates the future with hope and continues to champion development and cooperation within the creative community with deep respect for expression through diverse lenses.
Beginning with the Spring 2019 issue, the Metrozine welcomes submissions in all literary genres and invites the avant-garde, the experimental, and the arcane in fiction, non-fiction, and poetry. We also welcome submissions of visual artwork, including drawings, photographs, and facsimiles of paintings. Portland Metrozine exists to inspire, encourage and broadcast creative artists.
Please help to create a community of intrepid, insightful, and innovative artists and deep thinkers by sharing your vision, your voice, and your point of view!
For me there is only the traveling on paths that have heart.

There I travel, and the only worthwhile challenge is to traverse its full length.

There I travel, looking, looking breathlessly.

— Carlos Castenada