Portland Metrozine - Summer 2019
Intrepid | Insightful | Innovative
.
Ball and Chain
By Dustin Hendrick
Creative Non-Fiction: Essay

Dustin shares a memory of an early-twenties acid trip that took place during the final hours of 1999 and coincided with the end of his first relationship.
Suite of Poems
By Daniel Edward Moore
Poetry: Experimental visual effect
Explore the intricacies of human relationship through a dazzling array of visual imagery and powerful language.
Mailbox
By Scott Archer Jones
Fiction: Short Story
Scott leads us into the story to find out who she is and what threat walks up and down her road, only to discover that we never knew him.
The Stargazers
By Diana Todd
Illustration: Ink and watercolor on cold press watercolor paper
Conjure a summer night perched atop a hill gazing at the panorama of stars and city lights.
Don't Sit on His Lap
By Naheed Brown
Poetry: Lyrical
Naheed reflects on the experience of a young girl, violated and shamed by a family friend, who heals her younger self with the compassion and forgiveness of the wise and loving adult she grew to become.
Genghis, Jesus and Abraham Lincoln
By Gerald Marchewka
Poetry: Epic
Gerald experiments with rhythmic language and poetic form and structure, all the while summoning historic images of epic proportions.
Wild Card
By Nastashia Minto
Creative Non-Fiction: Literary Memoir
Nastashia recalls how she decided to deal herself in to her own game of life, strategically positioning herself to win by becoming her own wild card.
Face #4032
By Cat Terrell
Painting: Oil
Cat enjoys working with color and shadow to create unique perspectives. She is intrigued by the human face and the endless variations she sees.
Do-Overs
By Mary Ellen Gambutti
Creative Non-Fiction: Literary Memoir
Mary Ellen invites us to consider a world that never was but might have been and ponders the woman she might have become but never was. Unlocking the mystery of who she was, she takes comfort in knowing from whom she came.
Three Poems
By F.I. Goldhaber
Goldhaber wields her poetry as an activist's tool to call out injustice against our fellow humans, our environment, and other species that inhabit the earth with us.
Cigarette Burns and Wabi-Sabi
By William A. Carpenter
Creative non-fiction: personal essay
William realizes that even years of practicing the Japanese tea ceremony did not prepare him for this encounter with damaged tatami mats in the tea house at the Portland Japanese Gardens.
Spotlight on:
Child Marriage
By Dawn Tyree
Nationally known for her activism against forced child marriage, Dawn Tyree is currently working to protect children by changing the law state-by-state.
Slice of Life:
Love and Betrayal
By Prisoner 53.3.8.5.7
A young incarcerated man shares experience with love and insights about betrayal through the narrow lens of prison life as he serves out his sentence.
---
CONTRIBUTORS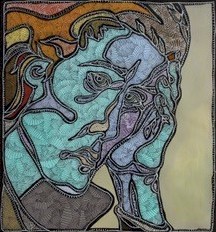 Cover Artwork: "Closer Look" by Marta Kalinska
(acrylic and marker on paper)

Welcome to the Summer 2019 issue of the Portland Metrozine - a growing online community of writers, artists, and deep thinkers who, from around the world, share their ever-evolving literary work, visual art, and positive community vision.
Our beginnings… This historic "Metrozine" debuted in 1991 as Poor Joe's Guide, a print publication designed, developed, published, and distributed by a tightly-knit community of artists and writers. The Guide rapidly evolved into the literary journal, Portland Metrozine. In 2019, original publisher, Joseph Corrado, and editor, Basha Krasnoff, resumed publication as an online literary journal. In keeping with its legacy and with renewed vigor, the Metrozine eagerly anticipates the future with hope and continues to champion development and cooperation within the creative community with deep respect for expression through diverse lenses.
About this issue… The Metrozine offers a safe space for creatives in our global community to share their unique expressions of life experience and their developing understanding of what it means to be fully and freely alive in this world. In this Summer 2019 issue, you will find stories, poems, memories, and images about times of vulnerability and violation. And if you read on, you will meet women and men who grow stronger because of their experiences. Join them as they continue to weave the threads of their lives in fearless pursuit of wholeness and truth.
Cover Artwork… Artist Marta Kalinska's "Closer Look" was inspired by Dorothea Lange, whose photographs captured the stark reality of the Great Depression era. The subject of her painting is the 19-year-old Ruby Nell Shepard who Lange captured looking off into the distance seemingly dissociated from the bleak reality of her surroundings.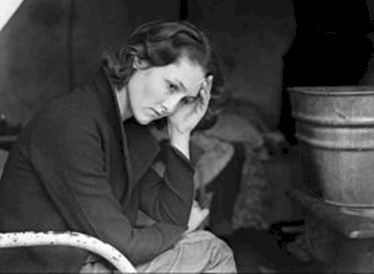 Marta found this "distancing" familiar and externalized that "knowing" in her painting. She thinks that this creative process "gives her the space to dissolve her hypervigilant ego and engage in this absorptive act that permits multiple versions of the subject to exist cohesively and concurrently." Upon close inspection, her pieces reveal multiple layers of built-upon medium that creates the painting's unique finished appearance. According to Marta, this method is time consuming and her reliance on it reflects her vulnerability as an artist because "what the viewer sees is the culmination of gently guided mistakes. Accepted mistakes."
We welcome submissions from creative writers, artists, activists, and deep-thinkers around the world. The Metrozine community encourages the avant-garde, the experimental, and the arcane in fiction, non-fiction, and poetry. We also welcome submissions of visual artwork, including drawings, photographs, and facsimiles of paintings. Buoyed by the thriving literary community of Portland, Oregon, we reach out to the global community to inspire, encourage and broadcast creative expression. Wherever you are on planet Earth, we welcome you to share your vision, your voice, and your point of view!
There is a community of the spirit.
Join it, and feel the delight of
walking in the noisy street,
and being the noise.

—from Rumi's "A Community of Spirit"